Actually, I rarely shy away from expressing my opinion. I inform myself on well-founded media portals, form an opinion and like to discuss it. After all, it is precisely through good discussion with other people that new views and ideas emerge that can help you move forward in life.  I value freedom of expression and am also prepared to verbally defend my own and others' freedom if necessary.
But still!
We are in a global crisis. Every country is struggling to keep its health system running and to contain the currently rampant virus. I too have seen countless videos from epidemiologists who say they do not understand the excitement and that the corona virus is not nearly as bad as the annual wave of flu. I too have read conspiracy theories about the corona virus not even being there and that the new 5G is to blame for the prevailing crisis because it is supposed to do something to any chemtrails in our bodies. Or that the global powers have initiated the virus to put the economy back to point zero so that they can continue their rise to power.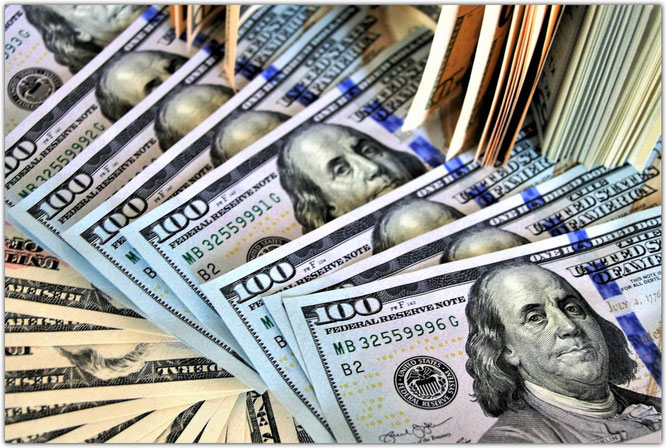 My dears, I too am forming an opinion. But I will not express it. BECAUSE IT DOESN'T MATTER WHAT I THINK! Our governments have acted. They have enacted rules and laws that must be obeyed without question! And then when I open the social media portals and read posts like "But I'm someone who needs physical closeness and I'm not going to be forbidden to hug my friends" or "I'm not going to let the government dictate my life", it makes me cry.
Take this as an appeal for solidarity!
Everywhere you read about solidarity. People are singing songs from their balconies to strengthen the sense of solidarity, all kinds of help is offered in the net. And if you go and look at the webcams of the city of Bern, you can still see hundreds of people strolling in the narrow space of the rose garden or picnicking in the meadows.

Solidarity is not a trendy word, it is not just something to be able to participate in social media! This community spirit must now be really, truly lived! Please, dear people, stay at home, abide by the rules of your governments and do your part to protect our health systems and put the virus in its place. It really needs every one of us! Because don't we all have people in our environment who are particularly threatened? Or do you have nurses and doctors beyond your family and friends who are completely exhausted and deeply tired yet are still doing their job every day with dedication? Or perhaps you, like me, have loved ones who are in hospital due to an accident or illness and urgently need help. It is the responsibility of each of us to protect all these people!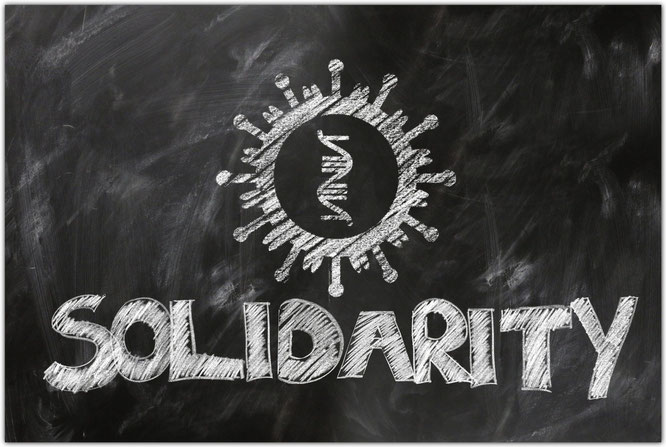 I know it's hard to be so limited in your personal life. I also suffer from the fact that I can no longer see my dearest people, that I have cancelled all photo shoots, that my beloved sewing course is no longer taking place and that the weekly shopping for food and going to work is my only contact with other people. I also fear for my existence and am affected by the economic situation that this virus has caused.

But for the sake of everyone, I simply stay locked up in my beautiful apartment and use this kind of time out to decelerate my life even more.For me, this private isolation means a lot of time to beat my husband in the card game UNO, to sit on the balcony and admire the condensation-free sky, to finally sew on my stock of fabric, to unravel all the knitted and unfinished sweaters and to reuse the wool for new projects, to finally tackle spring cleaning, to finally read all the books I bought and to look around at Netflix to see what's new.

And for those of you who have now nodded affirmatively while reading this article and are also trying to master this extraordinary situation and make the best of it, for all you sweethearts who follow the rules and stay at home, for you I have now selected some Netflix series that will certainly shorten your time at home.
Timeless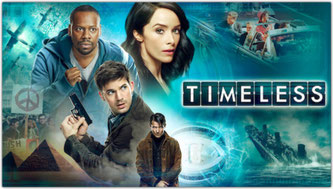 Honestly, Timeless is to me what Game of Thrones was to millions of flicker box addicts: the best series since the beginning of moving pictures.  In this US production, history professor Lucy, soldier Wyatt, and technician Rufus hunt down an ex-NSA agent. That alone would be enough material for some thrilling evenings in front of the TV, but it gets even better. They don't chase after the villain Flynn in fast cars, on hot motorcycles or even in airplanes, nooooo. That would be far too simple. They do it in time machines.Flynn travels back in his mothership to any time in order to change the future and thus the history of the USA. My three favourite time travellers chase after him in the spare machine and try to prevent worse.

What already sounds a bit like Star Trek and Co. has nothing in common with pointed ears and spread fingers. Although it's clearly science fiction, the creators tend to focus on the historical aspects of the story. The series is elaborately done, the costumes border on perfection and the sets are true works of art! The stays in the past are well-researched and even as a history fan you will learn a lot.The only and huge disadvantage of Timeless is that the series was cancelled after only two seasons.  I would have  wished for more adventures through our history books.

My conclusion: The series is a must for everyone who has even a little interest in history. But even for those who are less interested in the historical background but have a passion for fashion history, every single episode is a real feast for the eyes. Simply top!
high seas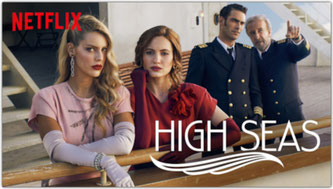 What I particularly like about the series are the protagonists. Rarely is there a series that doesn't focus on a pair of lovers. Although there is also a lot of love in this series, a large part of the story revolves around two sisters and their family.

On a luxury cruise ship in 1940, a series of mysterious deaths occurs on the crossing between Spain and Rio de Janeiro. As a result, the two sisters Eva and Carolina come across the disturbing secrets of their family.

As one can already deduce from the plot, it is a Spanish production and you can see that. It has nothing of the American nonchalance or the Central European coolness in it. The series is bubbling over with temperament and malicious tongues might say that it seems a bit flat and exaggerated. Even though the series may not always seem quite harmonious from a historical point of view, the fantastic work of the costume designers compensates for one or two inconsistencies. The story is entertaining, even if it's not that profound or rich in content.

My conclusion: If you aren't that fussy from a historical point of view and want to indulge in some light entertainment, then this series is perfect for you. For men without a preference for soap operas, High Seas is rather not suitable. And I have to admit that I would probably not have watched the series if it wasn't set in 1940. But especially the outfits of Eva have impressed me so much that I will sew at least one ensemble of them!
the bletchley circle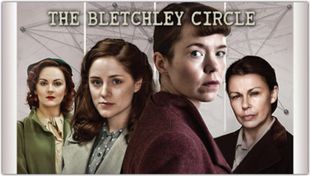 In wars, people come together who in "normal" life would probably not have had any contact with each other, and friendships develop that can go deeper than many a blood relationship. This British series is about four women whose only common ground seems to be their talent in cracking codes. And yet a friendship develops that outlasts the war.

The series is set in 1952 and tells in flashbacks of the work of the four cryptanalysts who deciphered the codes of the Nazis in the English country seat Bletchley Park. Having returned to their everyday lives, they struggle to find their way back to their old lives and give up the independence they had won during the war. When Susan then discovers by coincidence a pattern behind an unsolved series of murders, she convinces the three other code breakers to work with her to solve the murders.

As a crime lover, I was so happy when I discovered this series on Netflix. Puzzles and strong women combined with my two favorite decades, could it get any better? Accordingly, the series has not disappointed me. Although the clothes are not the most dazzling, this is partly due to the war and post-war period, but the characters are not especially fashion-conscious with one exception. Nonetheless, the series is very well arranged in a historical sense.

I find the mood of "The Bletchley Circle" to be extremely British - reserved and muted, but not in a negative sense. What I have to wreathe a wreath for the creators is how they managed, in addition to the high tension, to shed light on the individual development and reintegration into the everyday lives of the four very different women.

My conclusion: a crime thriller, even if it is a particularly good one, does not usually stand out because it keeps you busy for a long time. This series, however, is indeed captivating in its content and makes you think about it. If you are hoping for some casual entertainment, you are not well served with this British crime series. However, if you are in the mood to think about the image of women that was common at that time and also watch how a thrilling murder series is solved, then you should definitely watch "The Bletchley Circle".
miss fisher's murder mysteries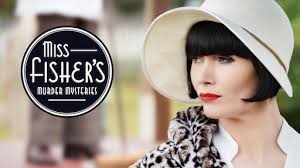 Oh, how I love the wit and charm of amateur detective Phryne Fisher! With elegance and intelligence she takes the viewer into the luxurious and exciting world of the 1920s, where she helps the attractive police inspector Jack solve mysterious murders, embodying the modern, independent and astute image of women in such a subtle way that it is neither intrusive nor flattering.

The cases are exciting and do not stop at any social class. In this way, one can dive into the factory life of a worker as well as into the high society everyday life of a fashion designer. The costumes are fabulous, the vehicles are a true splendour and in general the overall mood of these 3 seasons is somehow cheerful and lighthearted despite the murder and manslaughter.

My conclusion: obligatory program for all who are addicted to the 20s. Or for all those who like the casual kind of crime thriller. Or for all those who like series starring strong women. And actually anyway for all those who like cheerful series that play in the past, bring a good pinch of excitement with them and then add a touch of sex appeal to the whole thing. A real pleasure!
Outlander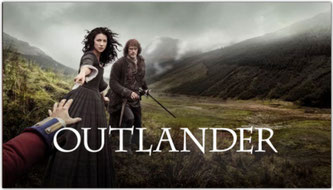 It is not an easy task that the producers of Outlander have set themselves. Because when you want to film such an incredibly good book series, which has already inspired millions of readers, you have to follow in big footsteps. After all, every reader has already put together his own head cinema, imagined the locations and put faces on the characters. It's all too easy to disappoint expectations and far too often that's exactly what happens.

Rarely, however, have I been so enthusiastic about the realisation of a book template as I was with this series. Claire, who falls through time on a trip to Scotland while visiting a stone circle and regains consciousness 200 years earlier, in 1743, is picked up by Highland Scotsmen and from then on goes on countless adventures with Jamie, the red-haired Highlander, always torn between the desire to return to her time or to stay in the past to save the Scots from their fate.

The cast of the male lead actor alone will be reason enough for many ladies to watch the series. But the true mastery of the books and therefore the basis of the series is the profound research that the writer Diana Gabaldon has done. As a huge Scotland fan and history buff, when I read Volume 1 for the first time, I examined many of the historical facts and was fascinated how exactly everything was right. The story is very profound and rousingly constructed, one suffers, loves and laughs with the protagonists and the landscape shots of Scotland alone would be worth watching the series.

My conclusion: Simply fantastic! If you like to feel a story, want to learn a lot about Scottish history and feel your heart beating up to your neck again, you should definitely watch Outlander.
I could recommend countless other series to you, but first of all, I don't want to seem like I'm just hanging in front of the TV and watching shows, and secondly, we don't know how long this crisis will last. Maybe then I will have enough time to write a second post about Netflix series, who knows.

Now I wish you hours of fun in front of the TV, don't bicker too much about the remote control, be nice to each other and above all: STAY AT HOME! Be solidary and think about the community. We must all pull together. It needs each of us.

Isolated greetings

Scarlet Rose
---