One question - countless answers. First of all, you have to ask yourself what kind of holiday you have planned - a relaxing beach holiday in the Caribbean, a wellness holiday in Austria or a road trip through the USA? Because depending on the trip you have to pack differently. In my case it goes to Canada, experience vacation with long journeys by unaffected nature, hikes through forests and up on mountains and soooooo much food. Here I will show you how I proceeded when packing in order to get as much vintage as possible into my suitcase: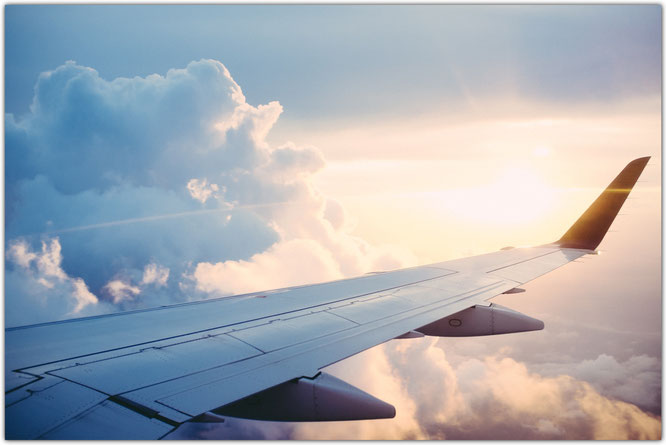 1. Weather Forecast
It may sound banal, but it's very important! Just because we are enjoying the summer of the century in Switzerland, which is still noticeable at the end of September, doesn't mean that it looks so beautiful all over the world. In Vancouver the forecast looks pretty autumnal, with a maximum temperature of around 20 degrees. However, we also go to Whistler Mountain and Blackcomb Peak, where there is currently snow. Conclusion: short clothes and summer sandals stay at home.
2. Travel Schedule
I mentioned it briefly; the program of the trip finally determines which clothes and footwear I take with me. Beach dresses and things like that can stay at home, but I can't possibly do without good shoes and a windproof jacket. And exactly at this point my vintage heart starts to bleed a little. Because as pretty as the girls climbed the mountains in the 1950s - I don't want to do that without the comfort of my Meindl hiking shoes and my softshell jacket even for style. So don't expect any vintage summitstorm photos from me, I'll be on top on average, but certainly no less happy!
3. Shoes
What, I'm worried about the shoes so early? But for sure! Because the shoes need the most space next to the Necessaire. That's why it's so important to choose your shoes carefully. For me it is quite clear that my hiking shoes have to go with me, otherwise I won't get up a mountain. I explore Vancouver most comfortably in my worn out chucks. Always make sure that you take shoes with you that you have already worn. Nothing is more annoying than blisters and wounds from uncomfortable shoes. This makes strolling through the pretty alleys quite painful and you will miss many beautiful moments just because you have packed stylish shoes instead of comfortable ones.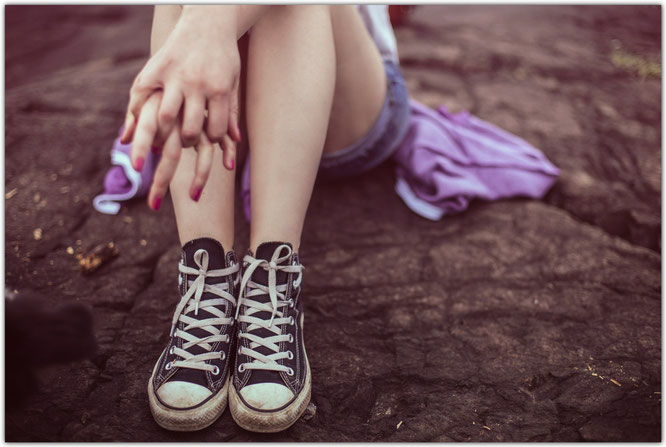 Then I always bring a third pair of shoes with me, namely this pair of shoes that I put on in the evening for dinner or just for looking good. This time I had a hard time choosing them. Because it's pretty cool in Canada, especially in the evenings. So open shoes are not warm enough. Then we come to the topic heels. If I was on my feet all day long, walked through cities and climbed mountains, in the evening I will have pretty tired legs. So the perfect shoes have to be closed and flat. Suddenly it falls like scales from my eyes: My cowboyboots! Not vintage enough? Of course they are! Even in the 40s and 50s there were cowgirls. And they really looked awesome! After all, it's the hair and makeup that definitely make our look like retro or vintage.
4. Clothes
I can only say one thing: pack carefully! I arrange my travel wardrobe in such a way that I can make several outfits with few parts. For this trip I decided to do without dresses and skirts. I almost always leave my classic 50s dresses with wide swinging plate skirts at home anyway. If a dress comes along, then one in the 40s style, because it needs less space in the suitcase and the petticoat can also stay at home. But if you can't do without your Pettie, just sew your own one, I'll show you how. That way the Pettiecoat won't take up too much space in your suitcase. By the way, Pettie bags still come with me, because they are also great as dirty laundry bags. If you don't want to sew your own bag, just contact me. I'd like to sew it for you.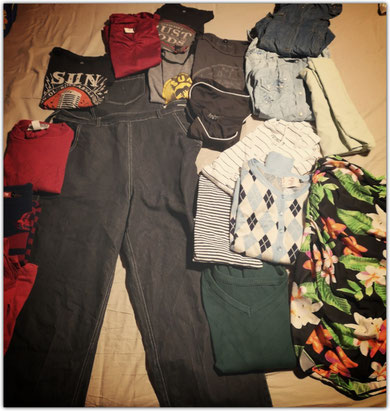 So, I pack my comfortable dungarees and then my sexy highwaist jeans. That makes it pretty easy for me to choose my tops. My chucks are red, so I pack my red shirts and some of my red cardigans.  Then there are other tops and jackets that harmonize well with the colors blue and red. White for example.
 
As evening dress I like pink tones, my new knitted sweater has to be with me. Then I have a beautiful blouse from emmy, which gives the highwaist jeans an elegant touch. Then one or two more elegant pullovers and the clothing collection is ready. Everything fits to my highwaist jeans and the cowboy boots.
5. Accessories
I had to do without a lot of my great clothes to save space for practical things. I don't compromise on accessories.  Because a matching necklace or a pretty foulard can completely change a look. I just make sure that I don't take any jewellery with me that I can't replace. So my dragonfly brooch from America stays in the closet because it is too precious to me. My standard assortment of jewellery includes my red and black necklace, one or two brooches, pink, black and red ear studs and maybe a foulard.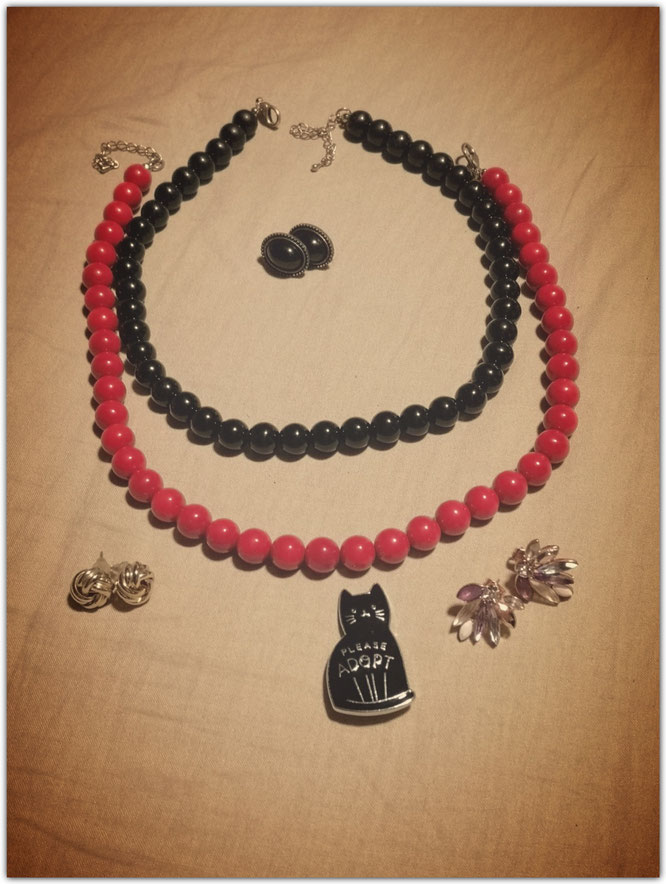 6. Cosmetics / Makeup / Hair
As I already wrote before, hair and makeup usually make the outfit authentic. But honestly, during my holidays I don't feel like turning my hair on the curler for hours or filling my face with layers of makeup. I admire women who have a natural talent for such things and where everything is easy and fast. I'm not one of them. That's why I need a pragmatic solution, because if a landscape like the one in Canada is waiting for you on the doorstep, then my husband certainly has no patience to wait for my hairstyle.
 
My solution: sleep moth! After taking a shower, dry up with a hairdryer (available in every hotel), then turn up and go to sleep. In the morning only briefly brush out, comb your forehead hair the way you want it and fix it with a looooot of good hairspray (I recommend the hairspray Helmut from the brand Evo, to buy at my dear Bixi of Frisurpur). So I don't have to wash my hair every day and it looks just good. Additional plus point. By the way, I still take a shower. I just wrap a towel around my head and the hairstyle stays the way it should be.
 
Red lips are a must. My current favourite lipstick is from exurbe cosmetics and is called Red Clay. I take great care to ensure that my lipsticks and other cosmetics are produced vegan and above all without animal testing. The Red Clay is for me an absolute everyday miracle, because it fits to almost all colors simply ideally. It also makes the lips soft and supple.
 
For some time now I have been using Filabé Skin Clear for my skin care. Perfect for my skin and I don't need to take a hundred different creams and skin care products with me.
7. Handbag
Here I am very quickly finished with writing: I take my small red shoulder bag with me, which was handmade in the USA. It is a real space miracle. If there's only a little bit in it, then it's flat, if I need something more with me, like for example my little city guide through Vancouver, then the bag can be beautifully exploited. Simply perfect!
8. Entertainment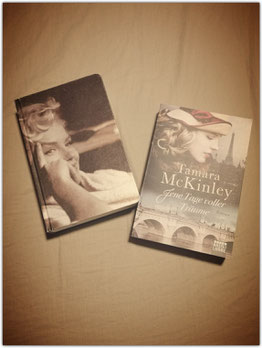 If I still have room (and I always do), because after all you want to take some more back home with you than you originally packed) then I'll pack some entertainment for the road or cosy evenings in the hotel. I always have at least one book with me. But since the flight takes more than 10 hours, I will probably take two books with me. I chose "Blond" by Joyce Carol Oates, a novel that deals with the life of Marilyn Monroe. And then I pack up "Echoes from Afar" by Tamara McKinley, a love story that jumps back and forth between 1936 and 1956.
So, my little suitcase is almost packed. By the way, I don't have a nice vintage case yet. But if somebody somewhere has too much money left and would like to give me a present, this would be my travel dream:
So dear ones, it won't be long now, and our day of departure is coming. You can follow my trip on Instagram or Facebook (I post more often on Instagram), and who knows, maybe I'll write a blog post about this trip sometime, but first I'll tell you all about our USA round trip - after we're back home in October. By the way, I'd like to give you a suggestion in case your suitcase suddenly looks much smaller when you're packing for your journey home than when you're travelling there: Roll your clothes instead of folding them! Works wonders! If you can't imagine how it should look like, just check out Youtube and watch the videos. You will be amazed!
 
See you soon, pretty ones!
 
Sincerely
Scarlet Rose
---