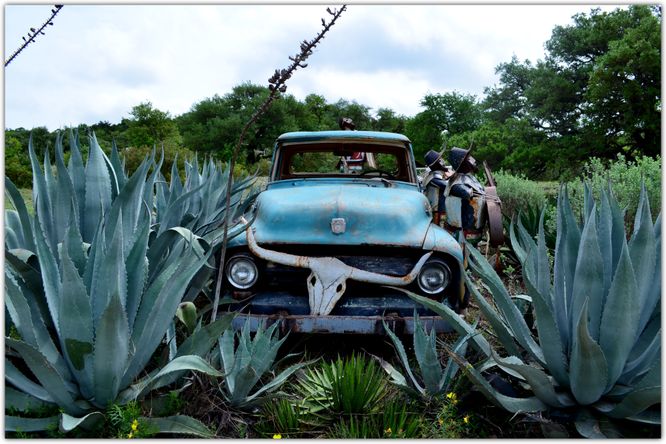 As they say, New Year, New Happiness. I admit it, this introduction lags a good two and a half months behind, but there is so much special about starting a new year. Even in March. It's like a blank page of paper that you can fill with stories. Especially great is that the holiday account is reloaded again and you can dream about how to invest your holidays. In four months we will be back in our home of hearts. Why we can't get enough of this region and why we lost our hearts there, I wrote down in my travel diary. Finally our journey continues for you. So today I am kidnapping you to Texas and Louisiana. Have a good trip and beautiful dreams!
Wednesday, April 12, 2017 - Bandera TX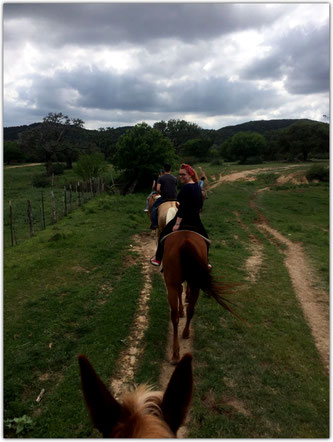 Contrary to expectations, today was really great! It was quite touristy, but we enjoyed it to the fullest, maybe because we changed table neighbours and eating became more pleasant. Speaking of food: It is soooo delicious! In the morning we had our first ride. It was fantastic! Although it didn't have much to do with riding, which I had known from before, because the horses simply walk in a row, but it was simply beautiful to look at the hills and valleys of the ranch from the back of a horse. Joe was pretty scared, but was quickly reassured when he realized that the horses knew on their own where to go. He had a kind of mule, just much bigger than we know it from Switzerland, but we are used to that from America. By the way, they are as stubborn as they are at home. While all the horses just did what they were supposed to do, Jack (Joe's mule) ate sometimes right and sometimes left and stopped for a while. It was really funny to see and hear Joe bouncing around on Jack and popping and shouting "come on please" and Jack just didn't waver. I am still laughing crookedly.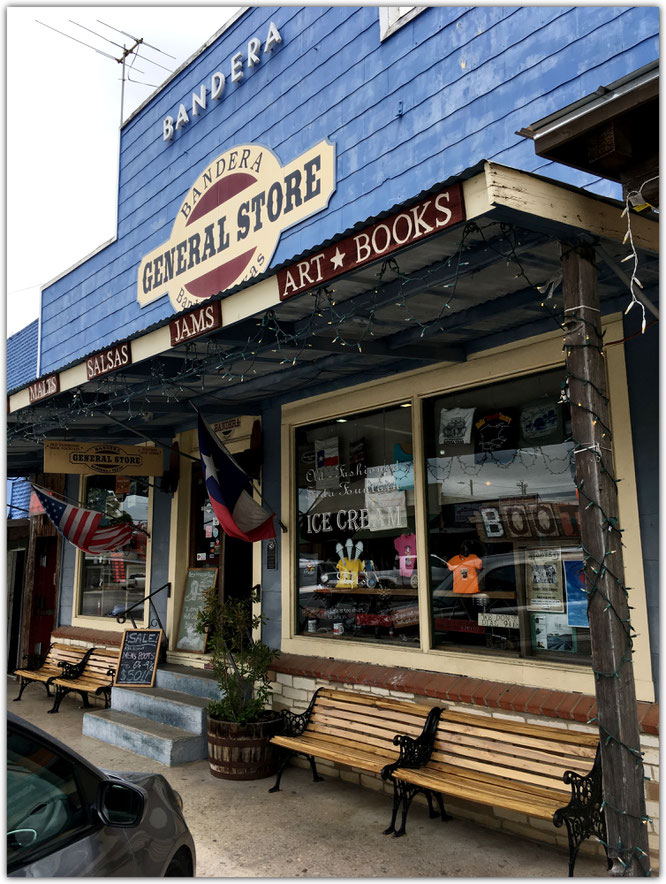 In the afternoon we went to Bandera and bought some souvenirs for ourselves. A metal boot for the Christmas tree, a metal sign, a bandana, a solid metal beer opener to screw to the wall and a lined booklet with a cowboy on it. It really is a cute little cowboy town, which is pretty sure living from tourism, but still very authentic. At four o'clock we were registered for our second ride. When we were standing at the paddock, a young man approached us and asked us with strong French accent if we could take a picture of them four. After taking the photo, I asked him in French where they came from and the answer somehow astonished me only moderately: from Lausanne. They immediately explained to us that they were here to meet cowboys, because they were cowboys themselves (side note: the girl wore glitter jeans, white sneakers and meter-long, pink, artificial fingernails). They also said that they were qualified riders in some discipline. I tried to warn them that Western riding here was not what he imagined. First, because Western riding here is completely different from what you are taught in Switzerland, and second, because these horses are not as ridden as they imagine. They are ridden for all people, including non-riders. Well, they didn't want to listen. The first thing he said to the Wrangler was: "We are high level riders". When the Wrangler wasn't impressed, he tried again, but the cowboy just walked away. Then the Wrangler explained that the horses had to run in a certain order. It didn't take 10 minutes for the wannabe cowboy to dance out of line, trying to trot to the end of the column. Already then the wrangler sounded a bit irritated when he explained to him again how it works here. Then it took about another 20 minutes until the would-be lost the desire for a leisurely step and drove his horse to trot. Then my horse took this as an invitation and galloped afterwards, for which I was somehow not prepared. Everything went well, no problem, but the Wrangler was quite angry. When the wannabe asked him at the end of the ride if he needed help unhitching, the Wrangler just answered "You're a tourist. Just go and do whatever tourists do". For dinner the young cowboy came in all seriousness with mounted spores. It was just embarrassing. We were really ashamed and hoped that the others wouldn't think the Swiss were all like that. In any case, I try hard to adapt, but not to pretend. I will certainly not become a Storebutt, a disguised, purchased wannabe.

Total expenses: $70.34
Total miles driven: 21.1
Thursday, April 13, 2017 - Bandera TX to Cat Spring TX
Our last day on the ranch is over and we were a bit sad for the first time. At first sight quite touristy, the people on the ranch really make it a loving retreat. The nice women always called me "love". "Do you want some more coffee love?"  I will really miss that. But the people in Texas are all so incredibly kind. On our first, longer drive, it made us feel a little melancholic. We are still at the beginning of our journey, but already now the cordiality and generosity of this country has changed us. Switzerland, and especially its structures, seems rather narrow and stubborn to us. Of course, we do not forget the advantages of Switzerland. For example, the good social system. But then again I think that thanks to this system it is also much easier to be lazy. The system that gives you money is always there for you to give you money. Independence in Switzerland, on the other hand, is not necessarily desirable. At least often not. Too complicated. Too many obstacles. And to come back to our welfare system: Somehow we have forgotten to look at our fellow human beings. On the campground where we are, an old woman was allowed to build her cottage because she lost her husband and children and had to give up the house. If she had not been allowed to stay here, she would probably have been lost. In the meantime, however, she has been here for five years and is apparently quite satisfied. Speaking of here: We are completely alone on private land, which has been declared as a campground. It has a shower, as described, but no trace of the promised restaurant far and wide. Since we drove about 5 kilometers over unpaved roads, which is strictly forbidden by the car rental company, we didn't want to go back to the small village to get something to eat. So our dinner was just consisting of Cheerios and Oreos. Very healthy. What we have learned: Always have a pack of dried meat with you. And enough gas for the gas stove. That's what we ran out of. So the package rice is also not cookable. Well done, Rookies.

Total expenses: $172.11
Miles traveled: 201.7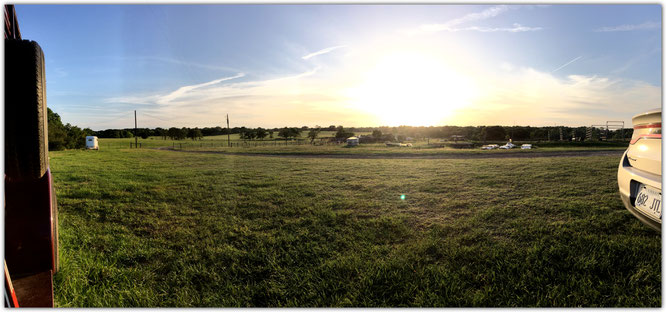 Friday, April 14, 2017 - Cat Spring TX to Lafayette LA
Well, today was a very different day than it was originally planned. The whole thing took its course during the night. When we went to the toilet again at about 1:00 a.m. (the burning stomach from "dinner" woke us up), I told Joe that the moon was already quite full. As soon as we were back in our sleeping bag, a shattering gait started. Not from an animal, from a whole pack. Sleep was then hardly to think of, because also the animals all around became nervous, which is rarely a good sign. At some point sleep overwhelmed us and in the morning all limbs were still there, nothing eaten *grin*. Except maybe our nerves when we discovered that our whole tent was full of horse shit. And it was wet, too. Actually we wanted to go to see the Houston Space Center, but we were both so tired that we decided to leave the Space Center (we still have three space centers planned) and stop halfway to Lafayette. But since it doesnt indicate a camping site on our app on the direct way from Cat Spring to Lafayette, we decided to make a small detour and then drive Louisiana down from the top/middle. So we decided to go to a campsite above Houston and near the border to Louisiana. When we reached the campsite, the nice receptionist told us that the minimum stay was three nights because of the Easter weekend. Easter we had totally forgotten! And in no case we wanted to spend three nights there, it was only meant as a stopover. There was nothing to see except the lake. So we had to go on. But where to? We decided to go to Lafayette after all. In the end that meant another 3.5 hours drive and all in all quite a detour, but what else should we do. So today we sat in the car for eight hours and did about 600 kilometres. That's more than driving from the westernmost to the easternmost end of Switzerland. The border crossing was extremely unspectacular - we didn't even notice it. However, the landscape changed very quickly. A lot of forest. And again and again artificial ponds to breed crabs. For long distances there is simply nothing. Then you feel a bit lost. From time to time you can see a pretty little house and next to it two break stalls and cheap trailer houses. It's really depressing to see the scissors in the population so hard-core next to each other. But there are certainly many who don't care about their belongings. A throw-away society. Joe made me laugh insanely when he suddenly said: "Look, there's a cement factory back there". I looked stupidly out of the window and asked him where he saw that, when he said it had been written: "Cemetery". We could hardly recover from laughing.
Total expenses: $115.98
Total miles: 375.60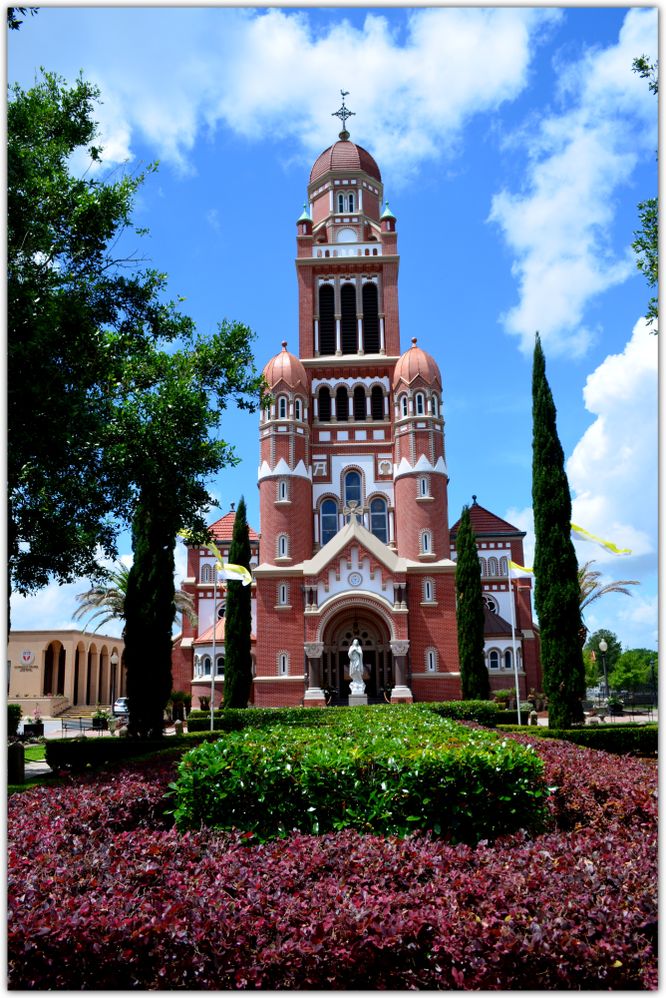 Saturday, April  15, 2017 - Lafayette LA
The first laundry on American soil would have been done. It is likely that everything still has its original size. The wash cycle kept us on the campsite for a while before we drove into Lafayette to visit the St. Johns Cathedral. It was really nice! And the architecture was completely different than expected; it was made of red bricks and much bigger than I thought. The cemetery behind it was also very impressive. The graves here are built above ground because of the location of Louisiana (often below sea level and very humid and swampy). Then we visited the Vermilionville, a reconstructed or restored Cajun village. Like the Ballenberg museum in Switzerland. That was simply fantastic! We learned so many new things about the Arcadians and Cajuns. For example where the word Cajuns comes from: The Arcadians called themselves "arcadiens". In the course of time this became the word "Cajun", which is easier to pronounce. And we made our first experiences with the typical, sweet and spicy cuisine of the Cajuns. Simply delicious!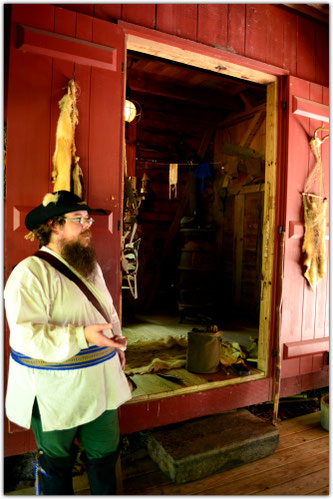 By the way, the village was populated by costumed Cajuns, who gave us an insight into the life of the Arcadians (1750 - 1865). That was enormously exciting. For example, I didn't know that quilts (blankets composed of several pieces) were used as a medium of communication, especially to help escaped slaves. 48% of the population at that time were slaves. And much more often than you might think, they fled. And I thought it was really important what one of those Cajuns said: that we should not just sweep the suffering story of the expellees under the carpet. That still concerns everyone today. We had dinner at the Randols Cajun Restaurant, where Joe ate jumbo shrimps for the first time. The first he ate in the Terrence Hill style including bowl and legs. For the second one he had an eating instruction given *haha*.

Total expenses: $105.68
Total miles driven: 41.5
Sunday, April 16, 2017 - Lafayette LA to Houma LA
Easter. The most boring day of our roadtrip so far. The plan would have been to visit the tabasco factory on Avery Island and then to drive comfortably to Houma, where we might visit the Military Museum, before we would have had dinner in a classic Cajun restaurant in the evening. So much about the plan. Avery Island: Tabasco factory closed. We were really disappointed because we were so looking forward to it. But the schedule doesn't allow us to stay one day longer, because we're already pretty close anyway. So on to Houma with a stopover in Franklin, which is such a lovely little town that it was even spared during the civil war. The historic Main Street was really cute, the rest was classic Louisiana: cute houses between old, ragged trailer houses. Honestly, that gives me a lot to think about. The landscapes are really beautiful, but seeing the gap between poor and wealthy right next to each other is depressing. Well, in Franklin the hunting for lunch started. The people here, who are very Christian, take Easter extremely seriously. For the fact that the opening hours are usually quite exaggerated, even on Sundays they are open everywhere, we were quite surprised to see everything so extinct. All restaurants closed. Even Burgerking. Finally, to our annoyance, there was just one shop that was open: McDonalds. In the evening in Houma we had the same problem again. Simply everything closed, also McDonalds. Luckily the Hooters was open. And that was a blow to my self-confidence. There are perfect serving girls walking around in clothes that don't even deserve the expression "trousers" or "shirt"! And then I should be able to eat relaxed and not think about my freshly grown wobble belly and my cellulite craters?! I decided in favor of my ass-moon-landscape for a salad. I thought that would be healthy. Wrong thought. Even the salads here are massively unhealthy. Tons of eggs, ham, chicken slices, two kinds of "cheese" and lots of greasy dressing. There was so much side dish that I had to return half a plate! I really have to admit that eating and buying food here is quite stressful for me. Everything is huge or at least only available in multipacks and everything is unhealthy! I still haven't been able to eat anything except the main meals and still have the feeling that I already have at least two kilos more on my ribs, which makes my self-esteem shrink quite a bit. On the other hand, I don't want to eat salad all the time (although, as I said, it's probably not that much healthier than a burger). Well, then diet is the order of the day when I get home. After all, I want to fit into my wedding dress.

Total expenses: $ 64.98
Total miles driven: 163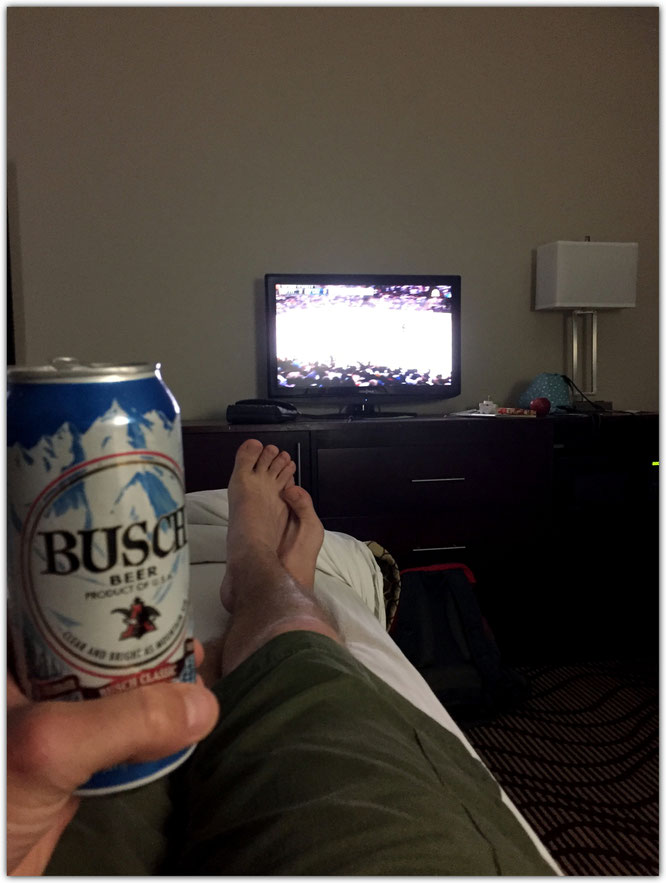 Monday, April 17, 2017 - Houma LA to New Orleans LA
Today it fooled us again a little. Actually we wanted to go to the Swamps. When we called there this morning to make sure that the tour was taking place (I was terribly nervous, I already don't like to call in Switzerland and here I sometimes have trouble understanding the locals), the gentleman said that the tour was cancelled in the morning because of the bad weather and that we should call again at noon, maybe the afternoon tour would take place. That would have changed our whole plan for the day and so we decided with a heavy heart to move on and find an alternative for our planned trip to the swamps. So we drove directly to the campground in New Orleans. We had just enough time until the next downpour came. The weather here changes tremendously fast. One minute can be the best weather and shortly after that a kettle of water falls on you. When we could dare to leave the tent again, we made our way into the city, which is called Big Easy by everyone. The nice women from the camping desk told us the best way to get to the city. So we parked our car halfway and drove from there with the fantastic old streetcar through the Garden District directly to the French Quarter. By the way, it is always quite stressful for me to use the public transport. The stops are not marked and also in the vehicles you can't see where you are at the moment. But so far everything still worked out and so we landed in the middle of the busy French Quarter, where we had to let everything have its effect on us. Music comes from everywhere. Every kind of music. Only jazz is heard on Bourbon Street, the nightlife street, rather less. You hear almost everything from rock, zydeco, country to old blues. Our late lunch was one of the best we ate here so far: Gumbo. A flour soup with chicken and sausage and vegetables. Simply sooo delicious! The Gumbo Shop has also been awarded by the Locals as the best Gumbo of the city. Joe ordered a seafood gumbo, which made for a good laugh when he suddenly pulled half a crab out of the soup, without having the slightest idea how to eat it. Fortunately, the neighbour at the table had also a crab in his plate and so he tried to imitate it - more or less successfully: the first leg flew through the air in a high arc and landed on his trousers. I guess it's time for washing again.
Total expenses: $52.90
Total miles: 77.7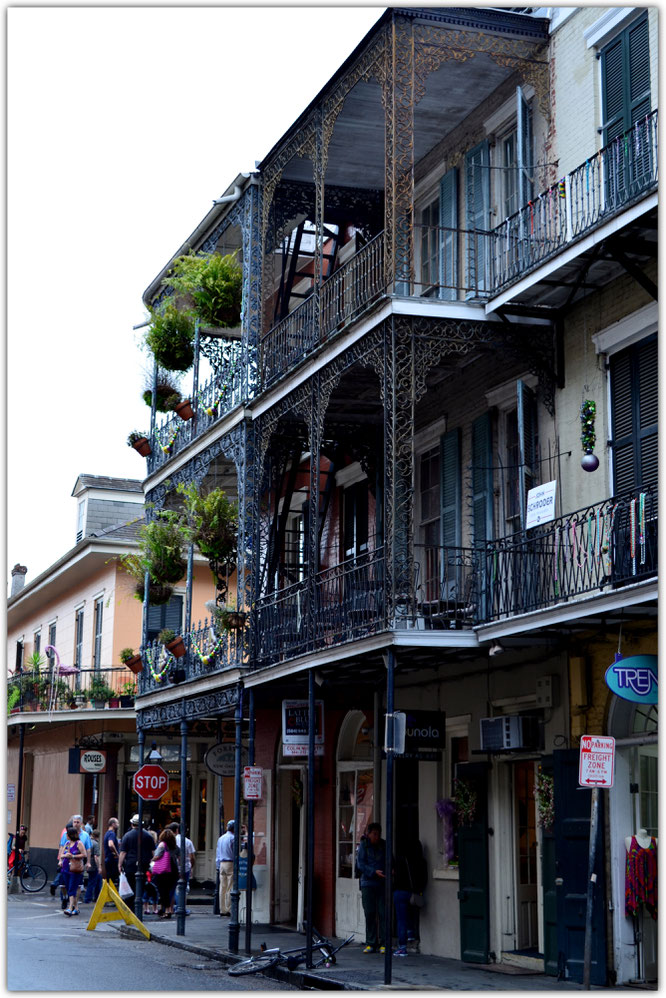 Tuesday, April 18, 2017 - New Orleans LA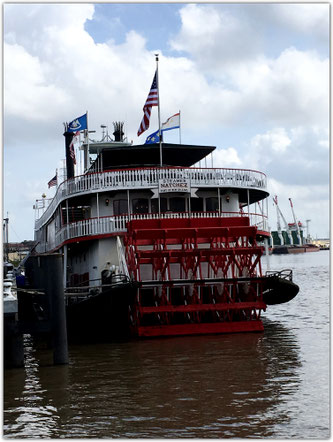 Today was a long but perfect day! At 09:00 o'clock we were taken by the camping bus shuttle to the city, where we took a lot of time to explore the Vieux Carré. We started at the Mississippi, which we probably noticed for the first time. The river is also called the Ol'Man River. From there we watched the steamboat Natchez, before we continued over Jackson Square to St. Louis Cathedral. We learned a lot about the old houses in the French Quarter, some of which even survived the two big fires. We almost got our feet flat, but it was absolutely worth it! By the way, I also indulged in something wonderful: red peeptoes with lacing. Difficult to describe, but simply perfect! Then we also got ourselves something for our home: a painting by a local artist who paints Old School motifs. And Joe bought another patch for his vest. In the evening we were again lured by the calls on Bourbon Street, where we ate something small after I almost overdid myself with an extremely strong drink called Hurricane. In the restaurant we talked to our table neighbours because we recognized their language as Dutch. They were also "music travelers" and could give us many more tips. It was really super fun and the first time that we put down our European shyness. After a short nightcap in a bar with soul music and R'n'B we were driven home by a totally nice, open-minded Jordanian (Uber). With his great attitude he shook Joes prejudices about the eastern people.
Total expenses: $292.40
Total miles driven: 0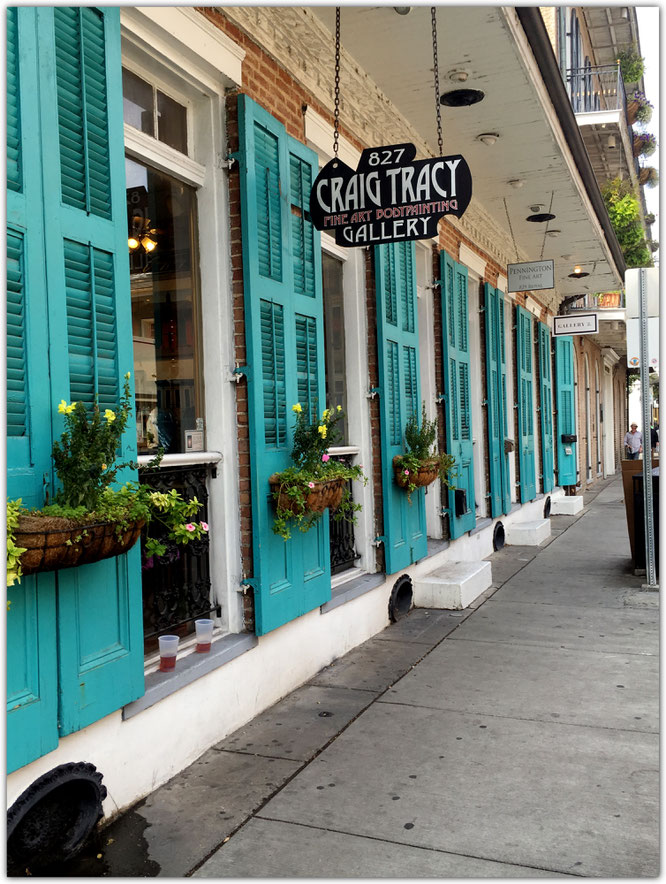 So, do you already feel the wanderlust? In any case, I can hardly wait to let the next holiday week pass in review and thus increase my anticipation for the next trip even more. Accompany me on our route along the Gulf of Mexico, relax with me on snow-white sandy beaches and enjoy the game of dolphins in the sea.

If you'd like to reminisce a little about New Orleans until then, I have a more detailed blogpost of the Big Easy that captivated me. And if you haven't read the report of the first week, you can find it here.

See you soon, dear ones!

Sincerely
Scarlet Rose
---