How do you know a girl becomes a woman? No, I'm not going to do a parents' guide now, I promise. But seriously, how can you tell that a woman is growing up? She starts to complain about herself. Just a month before, the biggest problem zone was the scratched knee and before you know it, she complains about too much or too little breasts, trains off non-existent fat pads and nothing is okay at all on her own body anymore.
I'd like to say that it'll settle with time. That it is only a phase. But hey, we women all know it: there are problem areas that stay for a lifetime. Sometimes only in our heads. We work off hours in the gym to finally get rid of certain little cushions, buy expensive creams to remove the supposed moon landscape on our asses and still stand frustrated in front of our mirror.

The abundance of supposedly unsightly places on our bodies is as diverse as mankind itself. And what for us is frustration par excellence is perhaps even admired by others. In my youth, for example, I was always insanely jealous of my friend, who was very slim and androgynous. She in turn envied me for my curves. We couldn't swap, so we had to learn to deal with our bodies and reach deep into our bag of tricks in order to feel more comfortable in our skin. While she simply reached for handkerchiefs to stuff her bra, I always bought my jeans a size too small to push my belly away.

So, and now we officially come to my problem zone: my belly. And not the whole part of my belly. Because everything above my belly button is completely okay. But right below it is the part of my body that makes sure that since my wedding two and a half years ago I've been asked over and over again if I'm finally pregnant. I think my answer is pretty cool: "Yep, it finally worked out. They are triplets. We'll call them hot dogs, hamburgers and chocolate.". I hope that at least one of you laughs a little while reading these lines, because it took me about 20 hours of thinking to come up with this quick-witted answer. And those who ask this stupid, personal question often don't laugh any more, my sarcastic tone makes sure of that. On the other hand, I can hardly stifle a smile when I see their faces. They are to blame themselves! You don't ask that.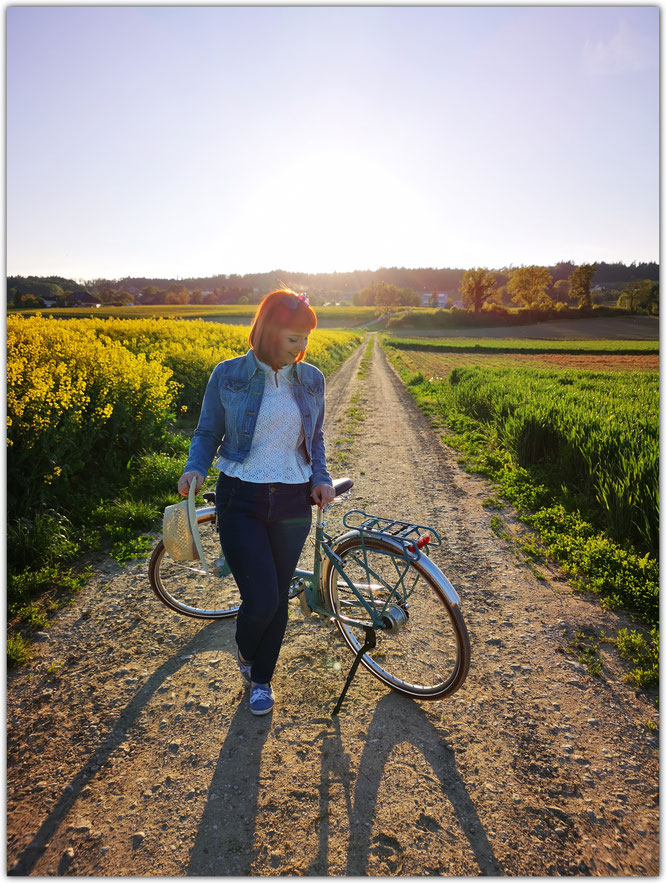 Collectif: Rebel Kate
Kate, oh, Kate. You were my first perfectly fitting retro jeans. It was love on the first order. But we had our highs and lows. And the lows almost drove me away from you forever. Almost. Until I found out that the mistake was with me. And since then we are inseparable.
Why I bought it:
Because of the button placket and the cleverly placed seams on the waist piece as well as the tight-fitting trouser legs. I wanted trousers that would give me sexy legs and that I could wear both high heels and chucks with.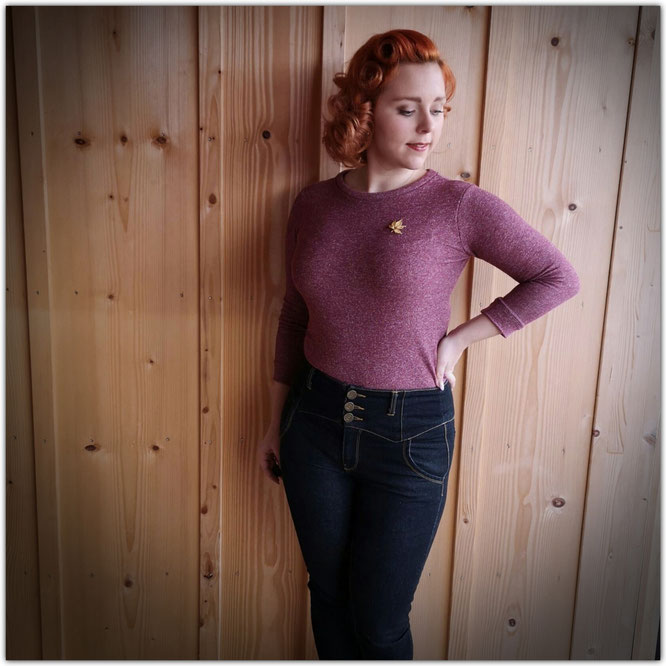 Pro's:
The button bar is really awesome. It optically conjures up the belly without being extremely constrictive. In addition, the jeans looks playful and sexy. Thanks to the cleverly placed seams my butt looks nice and crisp and not as if I had stuck it in a diaper (do you have the same problem with waist-high trousers? That your butt looks completely disproportionate? That's why I can't wear a vintage style bikini. I always look as if I had put on diapers). Another pro is clearly the price: including shipping from Great Britain, I paid about 60 francs.
Contra's
The colour is bleeding out quite a bit. So the colour of the jeans doesn't last very long. But at this price you can order a new pair of jeans from time to time.
Our crisis:
My first Kate was black and had the size M. It fitted perfectly. My second Kate was dark blue and had the size M as well. Although I did not gain too much weight, she was much too tight for me. After Kate had been lying unused in the closet for 2 months, I ordered a Kate 3 in the size L. It was much too big for me. After I had washed the trousers at 90 degrees celsius and then threw them into the tumbler for another 4 hours, they fitted somewhat, although not perfectly. I thought that was the end of our love story. We just didn't fit together anymore. We had grown apart. Unbridgeable differences, as it seemed. But I gave our relationship one last chance, and we overcame the crisis that had grown on my crap alone. Because what I didn't notice when I ordered Kate 2 and 3 was that there are several models of the Kate. There is the Kate with and without stretch. So the first Kate was an M with stretch, the second an M without. That's why it didn't fit. The L was then again one with stretch, and just one size too big. Kate 4 (size M with stretch) and I are now again a very happy couple and we hope very much to stay together forever until the end of her washing days!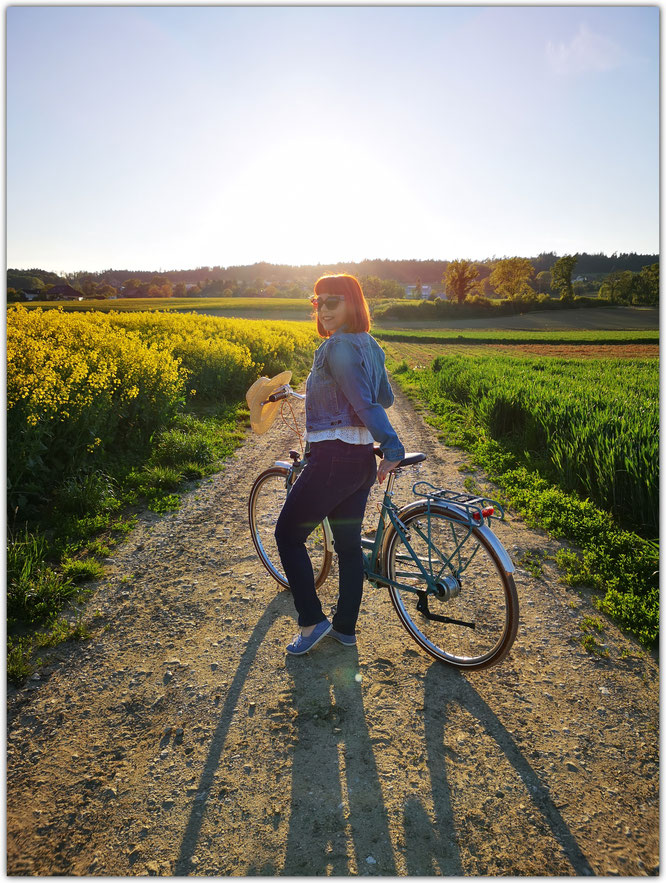 Rumble59: Marilyn's Curves
Who wouldn't want Marilyn Monroe's curves? And when they are wrapped in dark, heavy, thick denim, garnished with a sexy leopard envelope, women can hardly resist buying these rumble jeans.
Why I bought them:
Well, there's actually not much more to add to the introductory text. Is there any woman who can really resist the mixture of Marilyn and a sexy beast? I couldn't, so she had to move into my closet.
Is she going to stay?
Unfortunately, no. To be honest, I already sold her again. The reason is simple. I am not a Marilyn. My body and Rumble's fit are not compatible. Unfortunately Marilyn is not the first one to leave my wardrobe again. Apart from a jeans skirt by Rumble, no piece of this brand has been allowed to remain until now and I don't think I will buy any Rumble trousers anymore. Okay, I know what you think. Why do I always buy such jeans when I know exactly that they don't fit. Well, I'm sure you know the phenomenon of a garment that just looks great in a store. The shop assistant compliments you, the mirror throws a stunning picture back and you feel well wrapped up in the thick denim. Then you pay for the good piece, put the jeans on for the next city stroll, walk past a shop window and see your reflection in the corner of your eye. And oh shock! Where does this bloated belly suddenly come from?! That's exactly what happens to me again and again at Marilyn. Because she has no zipper. The trousers are closed with a button strip, which is hidden under an overlapping strip of fabric (how do you tell that part?). It's the same principle as the zipper, but with buttons. But as you know, the belly is my problem zone, and since my belly sausage in my trousers together with the buttons, which are less flat than a zipper, push this cloth flap forward and which stands out unattractive while walking and optically enlarges my belly, I had to say goodbye to Marilyn. Because even though my ass looks incredibly sexy in these pants, I can't go ass ahead through the world. My belly can't be conjured away. But the jeans do. That's why she had to leave.
Collectif: Dungarees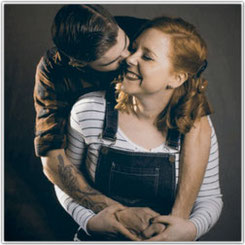 When it comes to overalls, I can be short. Whether it's sweet and playful, with a navy look and pretty buttons, made of soft cotton fabric or stiff denim: I love them all. Not every pair of dungarees perfectly conceals my tummy, but because the flap accentuates my narrow waist and stretches my legs optically, my little sausage no longer stands out. I like best the dungarees from Collectif. First of all they are affordable and secondly there are a lot of different designs that bring a bit of variety into the dungarees wardrobe. And the quality is really great.
Freddies of Pinewood: Teddy Girl
I ordered these trousers for a photo shoot in teddy style and secretly thought that I would let the trousers get dusty in the closet after the shoot. I am not a Teddy Girl, not even in between. So these trousers don't fit my style at all. When the pants were delivered and I wore a pair of Freddies for the first time, I knew that it was love and I would commit a style break forever and ever for this pair of pants!
Why I love her so:
The denim fabric is incredibly comfortable on the skin. It's a high quality fabric, but still not so thick and stiff that you feel like the jeans are standing on their own. Quite the opposite.  The pants really nestle against my body. Almost as if you were wearing pyjama pants, just in pretty.
The Cut:
Girls, I can't stop raving about these pants! Admittedly, the fit may not be perfect for everyone. But especially for women like me, with a narrow waist and wide hips (or as my gynaecologist says: a child-friendly pelvis) these jeans fit perfectly. Due to the central seam and the turned over pockets my tummy doesn't look as pregnant as my pelvis might promise and my butt is nicely accentuated by the waist-high cut. The trousers can be worn long, then the trouser leg flutters pleasantly around the calves. I also think that it stretches the legs a bit. I still like it better when the trousers are tight, so I just roll my teddy jeans up to my knees. That looks casual, goes well with an elegant blouse or a worn out Coca Cola shirt and can be worn with almost any shoe.
Levis Jeans: 311 Shaping Skinny
It's her! Do you know this feeling when you see a pair of jeans in the shop which is almost too beautiful to be a pair of jeans and you then take them into the locker room with a frightened feeling? I was like that with the 311. I wanted it to fit so badly that I already started sweating before I even threaded one foot into my trousers. In my head, all the changing room horror scenarios were taking place and I didn't even notice how silky and soft the fabric glided over my legs. Without even having to pull in my stomach for a second, I buttoned my pants and honestly, I don't exaggerate, suddenly angels started singing! Although the jeans don't reach up to my waist, my belly looks nice and flat, my legs seem to be very long and well formed, and my butt just looks fantastic! I was so exhausted that I bought two pairs. She's it, my big jeans love! And to keep the tension high, I don't have a photo for you today. I plan to dedicate my Skinny's my own contribution and to show you what you can combine great to jeans and how you can style it best. How do you like the idea?

Write your favourite jeans brand or your favourite model in the comment column, I would be very glad! Until then I wish you a happy fitting!

Your Scarlet Rose
---