Embedded in the delta of the Ol'Man River, as the leisurely gliding Mississippi is also called, lies Crescent City. New Orleans doesn't get that name because it looks so magical in the soft glow of a crescent moon. Because one thing is for sure: If you walk up Bourbon Street in the evening, as soon as it has darkened, then you certainly don't have a look at the moon. But more about that later. This wonderful city is named after our earth satellite because it was built like a sickle around Lake Pontchartrain.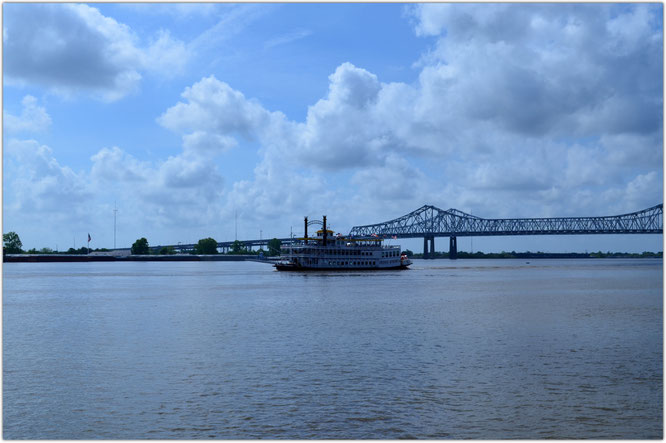 Our journey began in a pretty suburb of New Orleans. We boarded the over 180 years old St. Charles Streetcar and were taken back in time. While sitting on the mahogany-coloured wooden benches our driver rocked us through the historic districts of New Orleans.
We were especially impressed by the Garden District with its old southern villas. By the way, these glamorous buildings were built 85 years after the foundation of the city by the American Newcomers. Yes, you have read correctly: Newcomers. The city was founded in 1718 as Nouvelle Orléans by a Frenchman before it was ceded to the Spanish in 1762 and then returned to the French in 1800. In 1803, the entire state of Louisiana was sold to the Americans and the first Americans moved to New Orleans. But the locals didn't want to know anything about the new ones and banished them to the suburbs. From this, among other things, the beautiful Garden District arose.
Our trip through the different districts took about an hour and we could hardly get out of our amazement. The elaborate wrought-iron fences, the majestic old oaks that lined the streets and even the power lines were still decorated with the colorful plastic chains of Mardi Gras. At the harbour of the steamship Natchez our journey in the nostalgic tram ended and we walked along the quiet quay, in our daydreams only interrupted by seagulls flying by occasionally.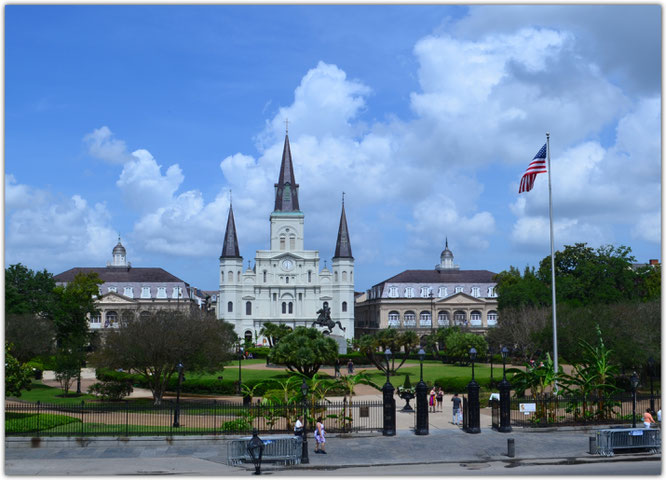 Soon we reached Jackson Square and then it was also over with the calm because at this point we dived into the pulsating life of this city. The most different nations live here together and this is reflected also in their religions. Let someone read from your hand in the shadow of the Roman Catholic St. Louis Cathedral or have a vodoo doll made to measure. A fortune-teller will tell you what the stars have planned for your future or you can even buy a herbal mixture for your next drink. Or simply eat some ice cream and admire the huge facade of the unique building (this is what we did).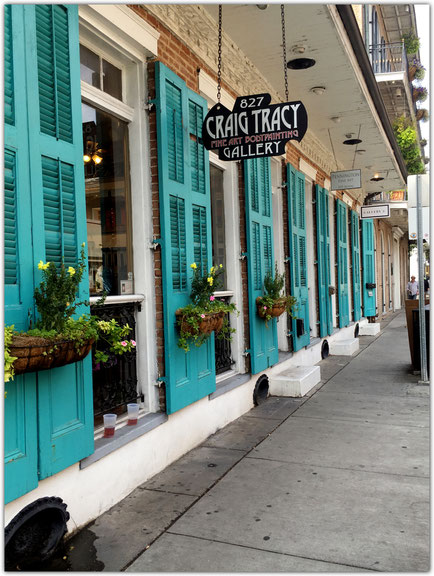 After a short break we continued through the winding streets of the famous French Quarter. We let the smells of the Creole restaurants, the colourful houses with the floral decorations and the ornate balconies have an effect on us and enjoyed the busy life on Royal Street. Happy sounds then lured us to a corner where we met a group of street musicians playing a mix of traditional Cajun music and jazz. The cheerful melodies drove us straight into the legs and it wasn't just us. Many listeners could not stand still with such tempting sounds and put a quick dance on the asphalt.
So much hunger for life immediately triggered a physical hunger in us, which we then satisfied in the best Gumbo restaurant in America: the Gumbo Shop in St. Peter Street. Gumbo is a spicy stew that is served in different variations and is typical southern cuisine. While I was enjoying the classic version with sausage, rice and vegetables, my husband chose the seafood version and made a big laugh.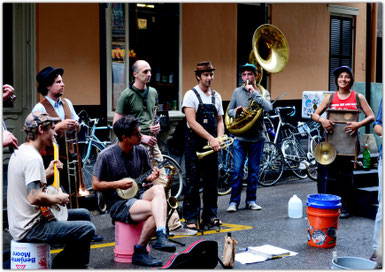 When we Central Europeans talk about seafood, we mean shrimps and perhaps squid rings. This is definitely not the case in the southern states. It is quite possible that half a crab swims in the soup. But how do you eat these things? My husband obviously didn't know it and so it happened that one leg of his crab flew through the air and landed under the chair of another guest. Obviously not unusual in New Orleans because apart from an understanding wink there was no other reaction. Everyone was probably too busy with their own delicious gumbo.
After this tasty lunch we went on through the beautiful streets. We admired local artists and bought a real, small work of art, which now adorns our windowsill. And because we were just so into shopping, we strained our travel budget a little more and bought some Creole spices.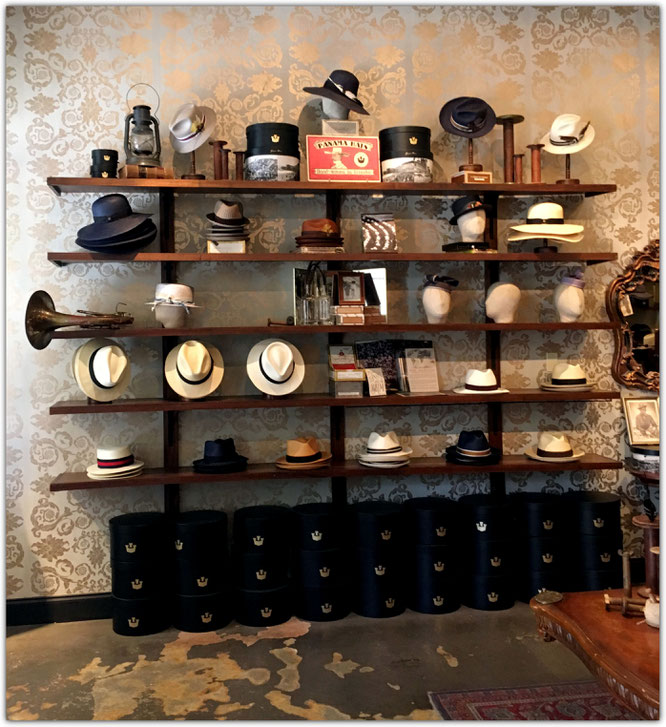 We strolled through the small shops, visited a hatter to try on hats and suddenly, we already wanted to retire in a pub, there was this shop. This place that made me forget my aching feet and somehow magically attracted me: Trashy Diva on Royal Street. My husband twisted his eyes, he knew what was coming. But this time he should at least be somewhat spared, because at first sight I fell in love with a pair of peep toes with lacing. Since my wallet really didn't give up much more for this day, I decided not to try on all the beautiful clothes and let my husband maneuver me out of the shop. But of course not without buying the red peep toes first.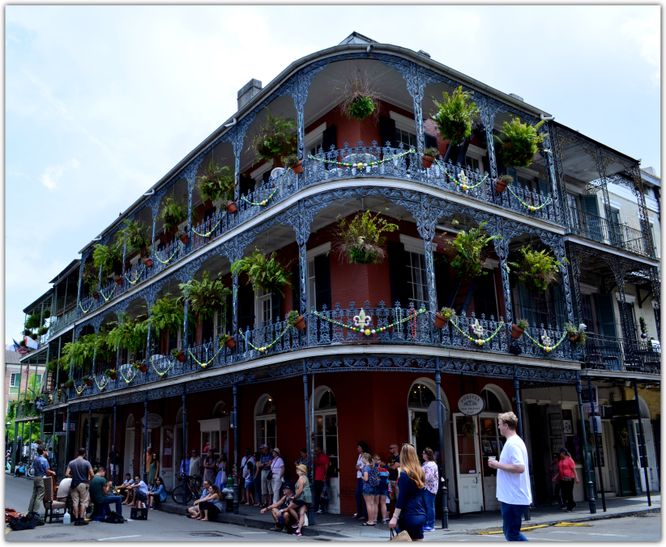 So we resumed our original plan and strolled, loaded with shopping bags, back to Bourbon Street, where we sat down in a cosy corner of a pub and had a daiquiri. But it didn't stay that cosy for long, because what would New Orleans be without music? Soon half the pub danced to cheerful Cajun sounds around the tables. For the sake of our feet - and shopping bags - we watched the cheerful hustle and bustle from our table and grinned at us, tired but happy.
When we left the pub, it was already dark and we experienced Bourbon Street from its other, colorful and little naughty side. Not for nothing is it called the Big Easy. Half-naked dancers who want to lure you into their club, public drinking of alcohol and exuberant celebrations on this infamous street. But all this without being repulsive or even frightening. Everyone was friendly and respectful, it was a huge, life-affirming party, regardless of age, sex or skin color. Everything was really easy.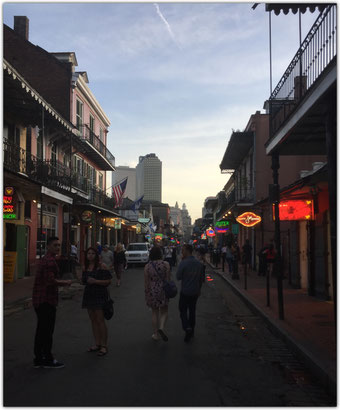 Attracted by an advertising crier and the delicious smell of grilled food, we went back to a small barbecue restaurant in an idyllic inner courtyard and had a really good time. And as it often happened to us in the southern states, we didn't stay alone for long. Instead of the menu we were soon engrossed in a conversation with our table neighbours. And as we sat there, in this pretty, quiet garden with the warm, coloured lanterns, above us the moon shining in competition with Bourbon Street, the table laden with delicacies and sweet drinks, surrounded by warm, cheerful people, I knew one thing: I had just lost my heart to the city called Crescent City.
---