Last Saturday I was allowed to be spoiled by the wonderful Bixi (Mrs. Bonnie) in her salon Frisurpur. She is not only a gifted hairdresser who knows Rockabilly- and Vintage Hairstyle, she is also a great human being. I visited her in Recherswil and asked her some questions so that you could get to know her as well.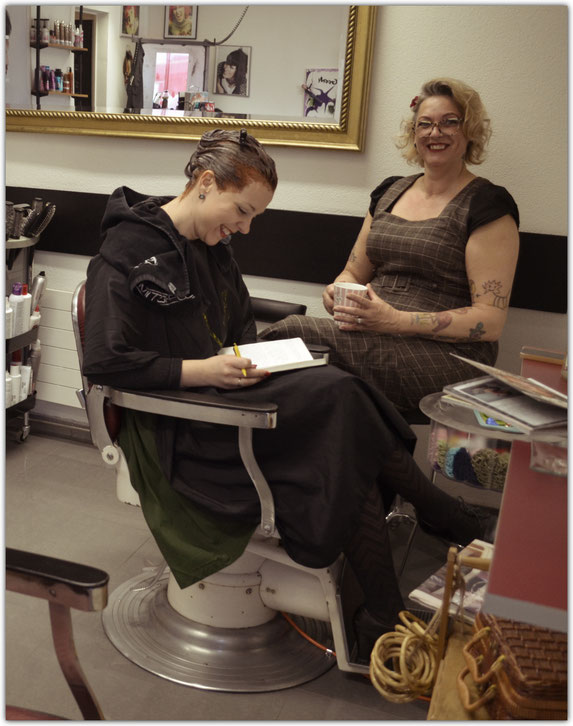 Bixi, let's start with your beginnings. Why did you train as a hairdresser back then?
Because I didn't find an apprenticeship as a florist. In the village an apprenticeship as a hairdresser was offered, that was practical, so I applied and got the job. That was in 1986. The training then lasted three years, after which I added another year of training as a men's hairdresser. I thought to myself, if I am already a hairdresser, then I would like to be able to serve also ladies and gentlemen. At the beginning it was not my dream job perharps. But in the three years of my training, I learned to love my profession.

If you could start all over again, what would you do differently?
I would probably work as a flight attendant after my training. Although maybe I would not be accepted because of my size. But still, that would have been fun for me. We never traveled much before. But when I was in the air, I was just fine. But then I bought myself a dog and started my own business, so it was over with being a waitress in the air.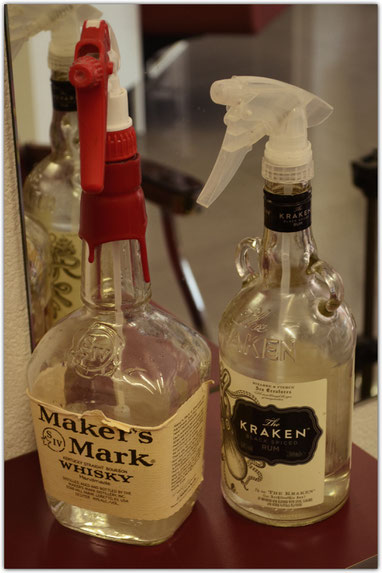 When did you start your own business?
In 1992 I received an offer from a 65 year old hairdresser to take over her shop. In 1993 I decided to accept the offer and quit my job. I started with nothing. I had a capital of CHF 390.00, my last salary as an employed hairdresser. I didn't have a business plan or any other plan, I just went for it and started my own business. To this day I don't regret it.
About 20% of your customers are Rockabillys or Rockabellas. Do you like us more than the other customers?
I like all my customers. Of course if I am allowed to conjure hairstyles that match my style, I do it with great devotion. But basically, I think every one of my customers has the right that I like him. Even if I don't like him so much (laughs). It's just the way it is; I like my job very much and so I like my customers very much. If someone asks me if I prefer to cut hair, make perm or dye, then I simply have to answer that I like to do everything right away. In the end a beautiful result is all that counts.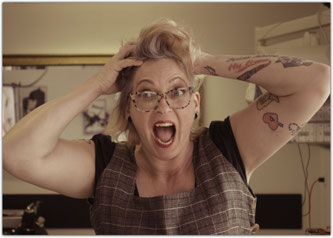 How complicated are Rockabillys and Rockabellas compared to other customers?
Actually not more complicated. I don't think it's the customers who are complicated. It's the hairdresser who doesn't listen or understand properly. That makes things complicated. But that's the case with every customer, whether Rockabilly or not. Maybe it would be a bit more complicated if I didn't live out the style myself. But because I style myself and some of my customers in this way, I have practice. That's why it's not difficult or complicated for me. The challenge then is to find the right thing for the customer. However, as I said, this has nothing to do with style at all, that is the case with every one of my customers.
 
Do you prefer to dress bellas or billys?
Bellas give more money (laughs). No honestly, there is no preference. With bellas it's simply more time-consuming and therefore more profitable for me, but I like doing both.  I'm boring right? But it's just like that.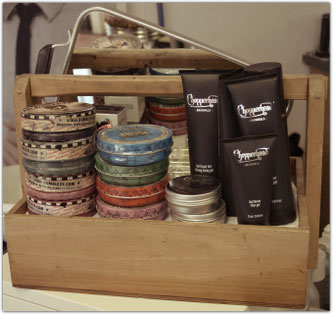 Product question: We are always struggling with various hair products in order to perfect our hairstyles. Which products do you recommend?
I recommend the Stay Strong hairspray from Paul Mitchell. For men and women. It doesn't stick. You can brush it out well and it still holds great! For classic Victory Rolls I like a rather untreated hair, which I can twist over my fingers and then fix with hairspray. If you prefer to use fatty products, then I recommend this pomade (picture). Or from Schmiere there are also very good products. But I would recommend a personal consultation, because they offer a lot of different variations. Not everyone likes the same thing.

How did you come to this lifestyle and when?
That was during my apprenticeship in Burgdorf around 1986, when I entered the scene. I met a car mechanic who had school on the same day as me and who was in that scene.

So you're one of the ones who went through the rockabilly revival of the 80s.
Yes. But I could only live out the style half-pudgy at that time. Unfortunately I had very broken and therefore short hair. Then I just styled pretty teddy hairstyles with hat and hairpieces. Soon I also got to know the scenes from Thun and Bern and became a female buddy of the teddies. The other women didn't like that so much and weren't really happy about this friendships.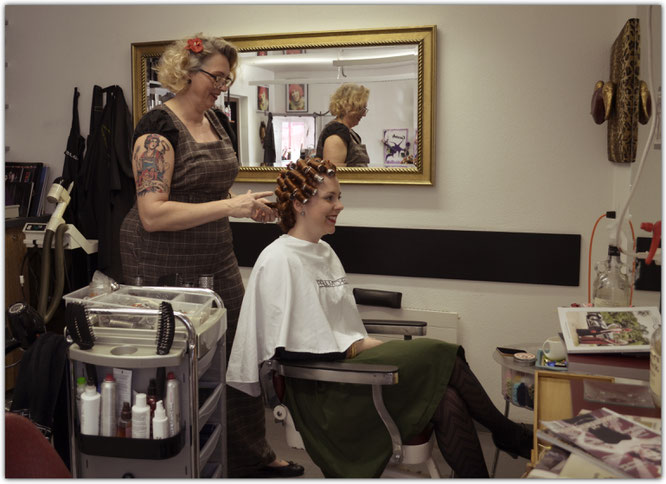 Was the scene different back then, more severe perhaps?
Yes. Back then you were just a girl you had sex with. You had nothing to say.  You were allowed to run along and look pretty, but woe betide you fought back somehow. One oriented oneself more strictly to the 50s.  At that time women didn't have much to say as well. You were a sweetheart doll and I never liked that. That's why I never gave myself up as such.
 
Were there times when you distanced yourself from the scene?
Yes, when I finished my apprenticeship. I had to prepare for the exams and didn't have that much time for anything other. Later I went into my own business and didn't have time to be anywhere else either. 6 years ago I went with a customer to see "Grease". There it has me again completely packed!  Finally I did a hairstyle again, put on the leather jacket of my ex-husband, combined jeans and sneakers and then I went to the musical. There I knew: This is exactly my thing. Half a year later I met my husband.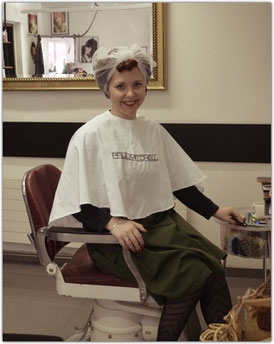 What does it mean to you to be a Rockabella?
I don't call myself Rockabella, I call myself Teddy Girl. That's what we used to call ourselves. Rockabella is a very modern expression. For me this means that I enjoy things from the 50s and 60s; clothes, hairstyles, furniture. But for me this doesn't necessarily mean that I have to live like the people back then, because I am a strong and independent woman. I don't need a man behind me, although it's nice to have one. But I don't need anyone to represent me. I can do that quite well on my own. So I'm glad that I can live today and not back then when I should have let myself be oppressed. And nevertheless, it also means for me to have a bit of melancholy about the times back then.

So it's the 50s and 60s that influence you?
Yes exactly. I love the rebellious men. The 40s are too styled for me and too fussy. I still think it is very beautiful, but not for me. The 50s with the skirts and the petticoats emphasized the feminine, the bombshell. In the 30s and 40s everything was a bit more overcast and more classic and straightforward.

How long do you need in the bathroom?
(Clears her throat). I have to lie a little now, don't I (laughs)? I'm just kidding, I usually have 15 minutes for the everyday look, which includes a loose hairstyle, face cream and a light daily makeup. But of course with lipstick. When I go to a party, it takes me an hour. The wetset I did the evening before not included.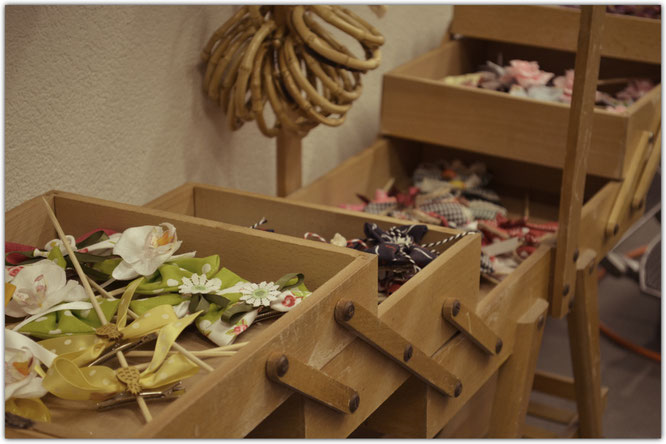 What do your customers say about your style?
They think it's great. They like it because it's so different, so feminine. I tend to work in rural areas and am also allowed to serve many older customers. They then feel reminded of their youth by my style. Also with the tattoos I very rarely have problems that someone would find them "creepy". People are usually very interested and ask when I'm going to get my next tattoo and which one is the newest tattoo. Sometimes people ask me if they can touch a tattoo because they think you can feel the picture on your skin. That's always very funny.  That's the great thing about my clientele. They are very tolerant. But I also think that my character is important. No matter how tattooed, unusual or crazy I am. I am very polite and respect my customers very much. I always do my best on the job, no matter who I have in front of me. My clients appreciate the fact that I am there for them. That I help an older lady up the stairs or pick someone up or bring someone home. It's not so much my style that is appreciated by customers, but rather my nature.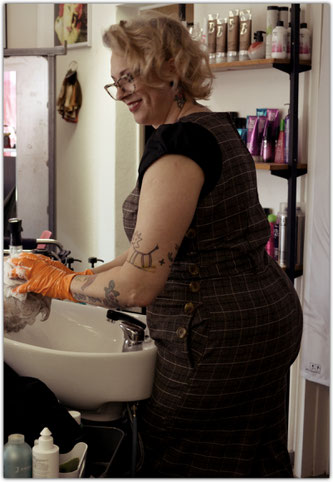 What do you do besides your job?
Preferably nothing (laughs). Family, dog and garden. I like to go to concerts and dance. My husband and I have never taken a dance class. We just dance because we like it. And as we like it.
If your life was filmed, who would play you?
The one who plays Danni Lowinski (Annette Frier). I think she's great. That's such a strong woman. Or Veronica Ferres.  I could also identify with her.
Which intro song would you run for your boxing match?
Don't cry for me Argentina (laughs). Just comes to my mind so spontaneously. More like something sad, because I would get so from on the muzzle.
What makes you really angry?
Dishonest people. Lies. Disfavour. That makes me really angry.
 
When we go out, where do we go and what do we drink?
I would love to drink a Sommersby on my terrace.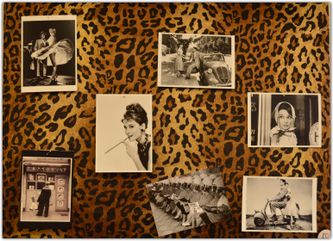 What would you get up for in the middle of the night?
Chocolate. Or to go on holiday.
 
You make beautiful hair accessories, the Bixiflowers. How did you come up with that?
The accessories you could buy in the shops were too uniform for me. In addition it was mostly expensive and made without love. And I also never had the right hair flowers for my clothes, because for me everything has to fit together. I missed the special, the unusual. So I just tried it out and so the first works came into being.

Where do you want to go with the Bixiflowers?
Use up all the fabric and sell everything so that I have space in the office again. Room for new ideas, new creations. In whatever form. Conquering the world with it? Others can do that better than me (laughs).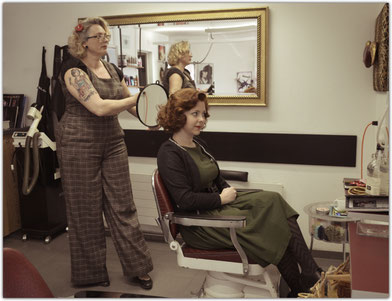 How old do you wanna get?
28 years old. A few decades in a row. nonsense. I just want to get so old that I can still have new experiences and enjoy them. And that I am still independent and can cope with everything on my own.
 
Is there anything you would like to say at the end?
Stay yourself, stay authentic. That is a very important life principle for me. Be true to yourself. Don't try to follow any trends. Live your own style and internalize it.  Everything else is fake and superimposed and finally leads to nothing.
---