Okay, okay. I admit that this post is a bit late now for those of you who already packed all the gifts in November and put some nice bows on them (a big bravo, you are true role models!). But when it comes to gifts, I've always been a little late. I was the child who, an hour before the Christmas party, locked herself up in the nursery in complete stress to pack all the presents (and there were always a lot of them because I love to give presents), while the others were already eating Christmas cookies and crowning the Christmas tree with the golden tip.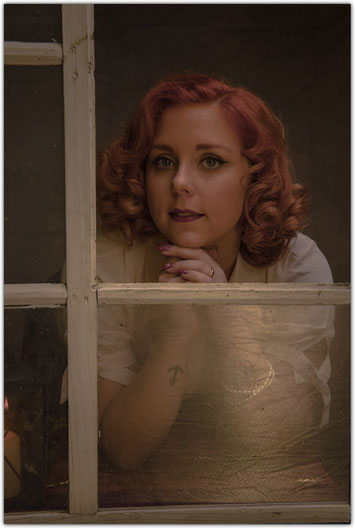 Christmas has always been one of the most exciting and beautiful times of the year to me. My sister and I started making Christmas presents for grandparents and godfathers under the guidance of our mother in October. In November the production of Christmas biscuits started. Cinnamon stars, vanilla crescents, Milanese cookies, raisin crescents, scoundrels and many more! On Christmas Eve my heart was always beating up to my neck, because that was THE day of the year! My father, my sister and I (unless I just stole some cookies or had to pack some gifts) decorated our huge Christmas tree. Every year Mommy wanted a smaller tree, every year it got bigger. I think the highest Christmas tree we had was a little over four meters.
The decorating took hours! But probably also because my father had to change every christmas tree decoration I had put up. You must know, as skillful (I'm imagining it in any case) as I can handle needle and thread, I'm so untalented when it comes to decorating. That also applies to the christmas tree. I'm not color-blind or anything. Really not. But the pink one next to the red ball didn't bother me. But I was alone with my opinion, so I simply comforted my lack of talent with enough confectionery. I was a really chubby child.
 
If you read my blog regularly, then you know that my father celebrates Christmas one floor higher up than we do. He will probably be able to admire thousands of christmas trees this year. Just the cinnamon stars, I eat them alone. But with each of them I think of him who is now in a more peaceful place. Because Christmas is no longer the same without my Daddy, this year we celebrate completely differently. Only very briefly: We retire to a cosy mountain hut, make a fire, drink Eggnogg and mulled wine and then go for a winter walk (maybe a little bit squishy), before we let it really crack with a cheese fondue. The presents are traditionally American packed in christmas stockings on Christmas Eve in the morning. With another glass of Eggnogg. Will I ever be able to drink Eggnogg again after this Christmas?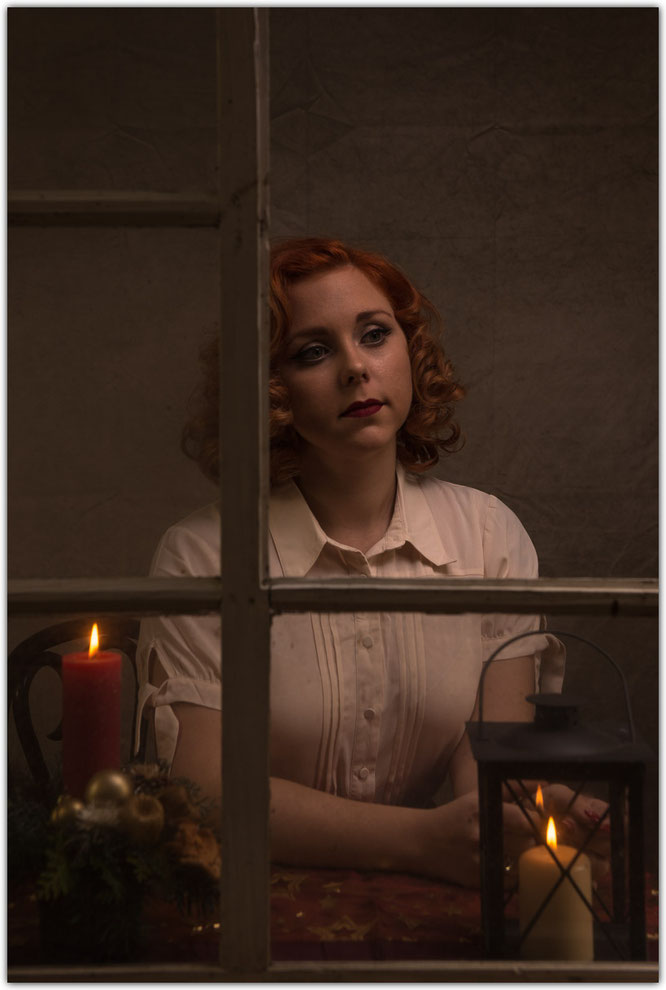 Since everything is different this year anyway, we have also reorganized the gift tradition. We are thinking more about being together and try to make the Christmas season so harmonious and stress-free (which is a synonym for "gift-free") during the Christmas season. But on the other hand, people have also brought a gift to the Christ Child. So for once we stick to the Bible and give one gift per person. After all, Christmas would be a little bit bleak without a single present. I just love gifts! So we have drawn lots and now give presents to one person from each of our illustrious groups. This will be exciting!
 
When it comes to gifts, I am probably the easiest person in the world to give presents to. Really true, ask my husband. I really enjoy everything, except decorative objects. Dear people, I know you mean well with me. But don't you see that I have absolutely no talent for staging these beautiful things properly?
 
Well, back to the essential: Christmas presents. Maybe, like me, you belong to the late bloomer category and don't have all the Christmas presents ready yet. Then here comes my little list of what I would be happy about from the bottom of my heart. Maybe you will find something suitable for your loved ones. And always remember, quality before quantity. If a gift comes from the heart, it doesn't have to cost much. Think about what makes your loved ones so special and what they like, turn away from mass goods and general gifts like perfume or vouchers and I am sure you will score!
1. Donations / Donation gifts
Okay, I admit that this is an extraordinary gift and may cause a little disappointment in the first moment. We are used to receiving a material gift for ourselves. Therefore it is also important to consider for which project or which organization you want to donate in the name of the recipient. It is especially great that many organizations prevent this first disappointment. More and more often there are great gifts to buy, in which some or even all of the proceeds go to the benefit of the organization.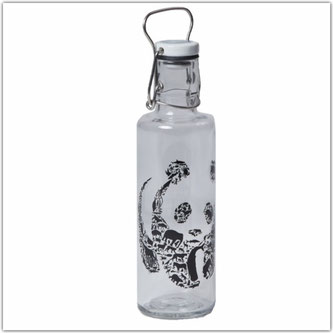 Animals and nature are very close to my heart. I think it is important that we take care of future generations on our planet. A future is probably the greatest gift you can give someone. That's why I've been a supporter of the WWF for years. If I could select a gift from the WWF shop, it would be this great glass bottle, because I haven't been drinking from plastic bottles for a long time. This Soulbottle would not only be an absolute eye-catcher, you also do something good for the environment every day by not producing plastic waste unnecessarily.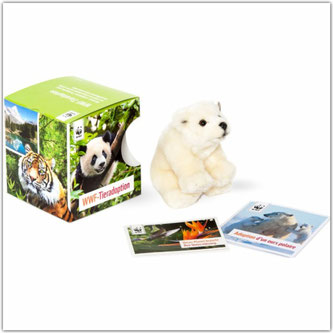 Maybe a little bit more I would be happy to sponsor a polar bear. The older I get, the more important animals become for me. At least since we have our velvet paws, and yep (my family can confirm that I am really addicted to my two sweethearts) I know how soulful animals really are. And in my opinion humans do far too little to protect them. Even worse that we feel superior as a breed and simply exploit the habitats of these animals to our advantage without thinking about the consequences. Let me tell you we're definitely inferior to the animals. My two cats prove this to me every day. Because who gets up every day at six o'clock, toil his ass at work to finance life, to pay taxes and health insurance, comes home in the evening, cleans the apartment, cooks something healthy and perhaps does some sport for the bad conscience? Certainly not my cats. They sleep all day, play, eat and let us spoil them. Who is inferior hah? :-)
If you or the recipient likes it a bit smaller, then I can highly recommend the organization Four Paws! You can buy gifts from the shop for a good cause or solve animal sponsorships - for example for stray dogs, bears, lions or many other animals.
 
It's especially great to give a present to a local animal shelter. Therefore it is best to contact the shelter in advance and ask what is needed most urgently. Donations of food are often welcome. The gift becomes especially personal when you bring the donations to the shelter yourself.  So he or she can see with his or her own eyes how much happiness he has given.
 
If you are more of a philanthropist, then I heartily recommend a donation to Palliative Care. This foundation gifts people very special moments. Warmhearted people ensure that beloved family members, who unfortunately are not allowed to stay with us for much longer, can enjoy the highest possible quality of life until they have to go to heaven. Not an easy topic, but one that is worth supporting!
 
Another wonderful project that deserves every conceivable support can be found at Herzensbilder.ch. Here a whole team of good-hearted fairies makes a free photo shooting possible for families of seriously ill, handicapped or much too early born children. These great photographers manage to give the families beautiful pictures and memories full of love even in the darkest hours.
2. Beauty Products
I admit it, it was a big change. If you are now thinking about how I can lump such important and profound donation projects together with beauty products, here's the explanation:
 
I am only a woman. I love to make myself pretty and my style includes red lips in every shade and variation imaginable. A company that fully meets my needs is exurbe cosmetics. There I get all my melodious lipsticks with names like "Scarlet" (hihi, that was a must for me, just because of the name), "Moulin Rouge" and "Love Train". But also my other products like eye shadow come mainly from this Swiss company. Because apart from the fact that the lipsticks are wonderfully caring and the eye shadows smell wonderfully, they are all vegan and manufactured without animal testing. An absolute must for me, because as I said, even the smallest animals deserve our protection.
3. A Year Full Of Vintage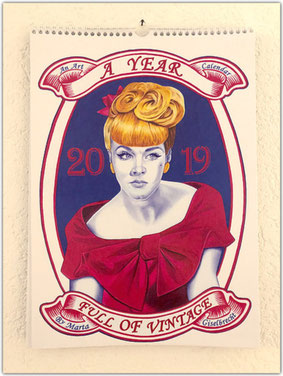 How I love her pictures! Marta is an incredibly talented artist who creates true works of art. You can read how she does it on her own page, because I could never reproduce it correctly. I've already ordered my calendar and I'm really looking forward to being accompanied by her pictures through the coming year!
4. For all DIY-Queens
Although I always try my best to shop regionally or at least nationally - even with gifts - I am only too happy to make an exception for this expressive T-shirt. I not only feel addressed by this print, it even feels as if the T-shirt was made especially for me. Steffi from Poppy Ray hit the nail on the head because I am sure that every self-made lady feels the same way. And that's why this great piece is not only suitable as a piece of clothing, but is also a true statement! If I don't get one for Christmas, then I order one for myself.
5. Jewellery
Nah, that's not boring and unimaginative! At least not if you buy the jewellery purposefully and with love. Because then every piece of jewellery becomes a memory of a loved one! Every time you put on the piece of jewellery, you carry this person with you. I once got a beautiful necklace from Fräulein Wildkirsche as a present from my husband for Christmas. Every time I wear it, I feel especially pretty and tell everyone who wants to hear it or not that this necklace was chosen by my husband for me. The necklace even accompanied me to the southern states. And so each of my pieces of jewellery has a very special story.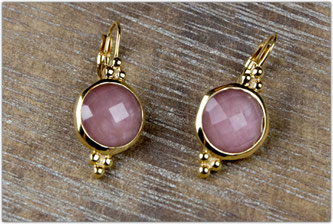 The jewellery of black & olive will certainly write many more stories in my jewellery drawer or on my ears and on my neck, because it is so incredibly delicate and radiant that I fell in love at first sight with countless masterpieces! Maybe these earrings are just the perfect gift for your best friend or your sweetheart? Then now is also the best time to place an order, the dear Esther from black & olive gives you 10% discount on an order until 31.12.2018. Simply enter the discount code "scarlet-rose" (that's me *haha*)!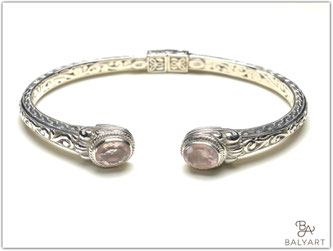 BALYART is another Swiss jewellery label that is close to my heart. I know the designer personally and have already had the honour of wearing some of her jewellery at shootings (for example here). Of course I am the proud owner of some of her pieces, but there is still so much waiting to find its way into my jewellery box. For example this great bracelet with rose quartz. But you still have to be able to look forward to something, don't you? That's why I still dream a little bit about these precious pieces and enjoy everything that I already own and am proud to wear!
And now what I really wish for all my heart for Christmas and the whole year: smile more! Smile at each other and watch how the smile is carried on. Does it sound kitschy? Yep. But have you ever noticed what happens when you smile at a passer-by on the sidewalk? At first he may be confused, but then he smiles too. And he gives this smile to his neighbour, whom he crosses at the front door, who carries it on to the supermarket and suddenly even the stressed mothers, fathers and employees who perform at their best at Christmas time smile. A smile can change the world, so I ask you: give me a smile!
Sincerely
Scarlet Rose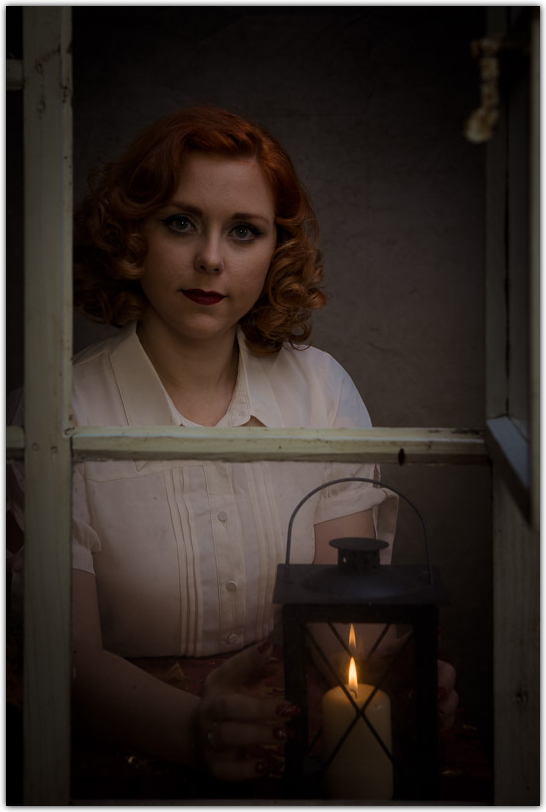 P.S.: for all those who don't have enough gift tips yet or live in Germany: Have a look at Victoria from Vintagemaedchen, she has even more great ideas ready!
---