Simultaneously with the first sunshine this May, I made a trip to another strong woman of our scene: Britta. She opened her wonderful Vintage Second Hand Shop in Unterentfelden in January 2017, where she also tailors clothes in the style of the 40s to 60s and makes changes of almost every kind. I was allowed to ask this creative, versatile woman a few questions in the midst of bright colours and fragrant fabrics.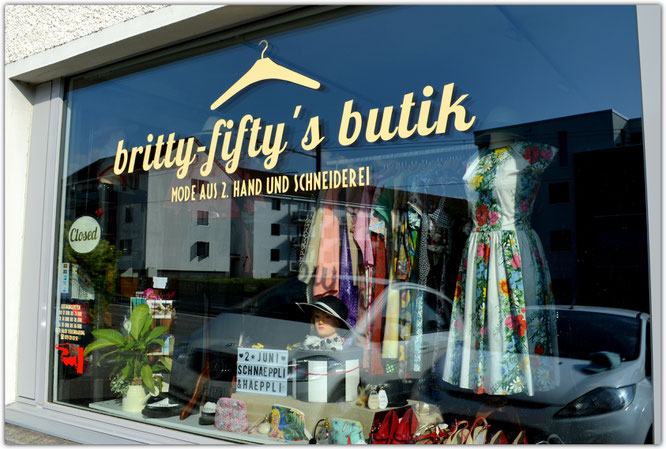 You weren't always a sewing fairy and a butik operator. Which profession did you originally learn?
The career counselor at that time said that the profession of a tailor would suit me very well, but I wouldn't have enough patience for it. So he suggested that I become a housekeeper, but you had to be 18 years old for that. To bridge the time until then, I first did an aupair year at Vevey, then a year at a commercial school. Instead of the housekeeper I became a hotel assistant. But because this did not quite correspond to my idea of a dream job, I completed some further training afterwards, among others the training as a hotel management assistant in the hope to find the right thing for me. At the age of forty I enrolled again at the commercial school in order to learn how to use computers and thus create the basis for my return to my commercial profession.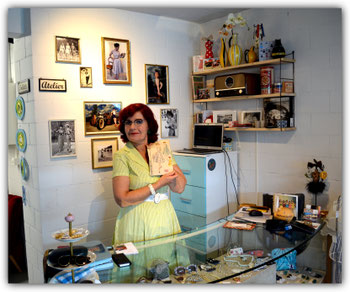 So you don't work in your shop all week?
No, I have it open every Thursday evening, Friday afternoon and Saturday. I also work on a reception for half a week. The Butik was actually born out of my hobby, sewing has always followed me a bit. Everyone around me sewed. In the end, my sister even became a seamstress. My mother attended many sewing courses and came home sometime and said: "I used to mend, now I can sew". And that's really true, you learn a lot in sewing courses.
 
Sewing for customers is the result of constantly repairing and pimping up expensive second-hand clothes for my daughter Vivian, who was in the scene already few years ago. So I thought I could sew the clothes myself. In a second-hand shop Vivian and I found an old pattern and so the first dress was made. She received many compliments for it. The next time we were out together a young man came and asked if I could sew him some trousers. That was in 2012.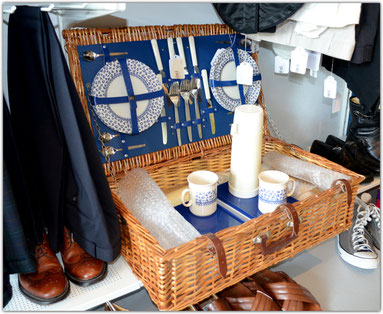 And when did you discover this style for yourself?
I think that's something that has always slumbered a little inside me. Grandmother's dishes for example always appealed to me. But my father was a very straightforward man. Every time I admired old or romantic things, I was told I was a dreamer. Perhaps that covered up this tendency towards the old a little.  But with my husband Andy I already went to these oldtimer meetings as a young woman, they already existed back then. But we really got into the scene through our daughter Vivian.

When did you change your clothing style?
The change of the clothing style came slowly. I still combine the new with the old today. That's not always one hundred percent true to style, but it's just my style. I think everyone should find their own style anyway. For example, you can combine a modern jeans with a second hand blouse.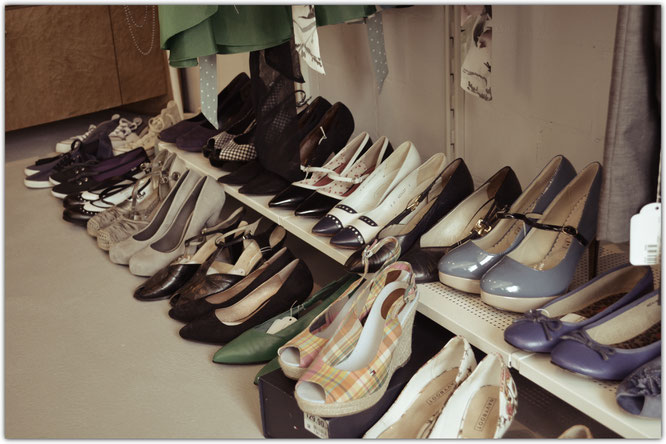 So you have no special fondness for old clothes?
I like both old and new. I also have many originals, which I then combine with repros. Unfortunately, old clothes are not so durable anymore. I even tore a dress once because the fabric was a bit fragile. You have to be aware that old clothes need special care. You can't just throw them in the washing machine or treat them like you can treat modern clothes. But when I buy new clothes, I always take the risk that someone else is wearing the same thing.

Where do you buy your private clothes? Do you shop in your shop? Or do you sew everything yourself?
So I like to go to vintage and second hand shops, also in America. Sometimes I shop in my own shop if I like something very much. But there are also great modern shops. Esprit for example has pants that look like Marlene pants. If time permits, I also like to sew for myself. Sometimes I would like to lock myself in for a week and just sew (laughs).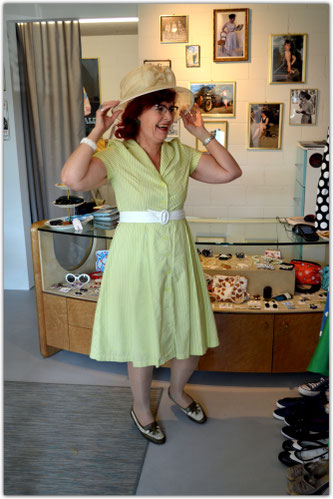 And where do you get your beautiful clothes for the store?
Everybody knows the clothes that stay in the closet because they don't fit the style or you don't like the colour anymore or you got the wrong size while shopping online. The lady or gentleman can then bring me the unsuitable and well-preserved dresses and clothing and I sell them for commission. 40% of the sales proceeds goes to the seller. I offer the clothes for one season and then we see what we do with the unsold parts. A part of the shop is also own stock, which I bought here or in America.
 
You are not a trained seamstress. At the beginning, did you have any doubts about opening a tailoring service or selling homemade clothes?
I just tried it. When I look back on my first job, I think it wasn't exactly perfect. But the price was accordingly low. The longer I sew and the more I learn in the sewing course, the more accurate my work becomes. And you just have to learn to appreciate your own work and demand something for it. That is sometimes very difficult. But I thought to myself: "As long as people come and demand is there, I will continue". However, I already make it clear that I am not a trained seamstress. But in the meantime I have been allowed to sew for others for some years now, that's very nice.
 
Which sewing requests do you get spots on?
With seam-covered zippers. I don't like them (laughs). But actually I find it very exciting what people bring to my shop. There are always surprises and challenges coming up to me, I like that. Once I even shortened a leather jacket.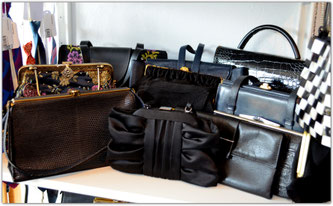 What do you prefer to sew?
I love variety. Maybe it's because I was told earlier that I didn't have enough patience to sew. That's why I like tricky things so much today. But maybe it also has something to do with age, that I have become a little calmer. But yes, I like the tricky jobs.
 
Where do you get your fabrics from?
That's actually quite different. So depending on the job I go to shops nearby. To Aarau, Solothurn or sometimes also to Zurich. But I've also been to a fabric store in Germany that has more than 1000 fabrics on offer, or I've also been through the Dutch fabric market. But then you have to know exactly what you want. I've already ordered online, but there you simply have the disadvantage that you can't touch the fabrics.
 
Is there an ultimate tip that you can give us self-seekers?
Always iron out the seams immediately. There are places you can't get to later, so you really should take the time to iron them properly. And always measure well during the whole sewing process. Don't be too bad to also reopen seams. A well made piece will reward you.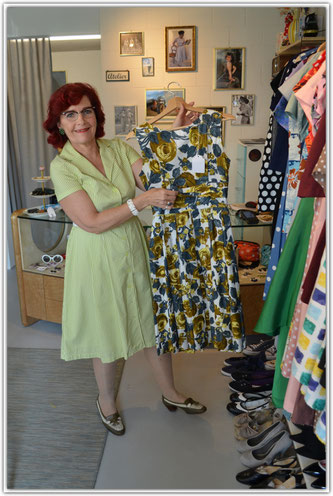 You're just over thirty now. You often hear from women that they feel too old for that style. Are there any tips that you can give the ladies so that they feel justly dressed for their age and not disguised?
Keep your hands off petticoats. They already belonged to the young girls under their dance dresses in the fifties. That's really something I would only wear in exceptional situations, otherwise the petti is a NoGo for me.
 
I like the classical style. A pleated waistband and a sloppy blouse. Or Marlene trousers. Even a sheath dress can chicly conceal any upholstery. In general I think you're very well dressed with a pretty blouse or skirt. And: Courage for colour! Many women over fifty don't wear colors anymore. But then they are no longer visible. Just be a bit brave!
 
If you had to attribute a vintage or a time period to certain things in your life, what would it be?
Fashion: 50s and 60s

Furniture: Also 50s and 60s. I buy the furniture in the secondhandshop or on Ricardo (Swiss counterpart to Ebay). And today there are very great reproductions.  And I really like the Nordic, simple style.

Car: 1975 (laughs). Very up-to-date our "new, old" fire department car, Mowag Dodge B300 with a lot of space. The new britty-fifty`s butik bus.

Attitude: So I pick the "beautiful" things out of the 50s and adapt them to today's time. I'm glad I didn't have to live back then. I think what the women have achieved is great. One doesn't exclude the other either. You can a lways choose the best from the decades and then live by it. I think gentlemen things are great. That Andy enters a room first or that he opens the car door for me. Basically I decide in every situation according to my feeling and don't give much thought to whether it's contemporary or not. Sometimes I am conservative and sometimes not. And sometimes your children teach you to be a little more modern.

Sewing machines: I have several. One is an old Pfaff from the 50s. Then I have a Miostar, which I inherited from my mother-in-law. And then I have a Brother, which is a bit more modern.

Shop: I offer clothes and accessories in the style of the 40's, 50's and 60's, for women as well as for men. There are also some great originals.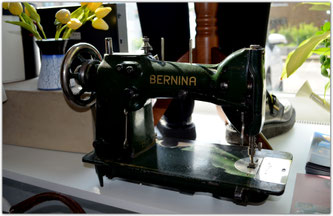 When and how did you decide to open the shop, not just as a sewing studio, but combined with a second-hand shop?
My first encounter with vintage shops was in America. The second-hand shops there are beautifully decorated, like real boutiques. I had the chance to draw attention to my tailoring in an equally beautifully furnished second-hand shop in Solothurn with a small sales area. I was always impressed by the way the owner ran her shop. I then imagined that I could actually adapt this to me, my interests, my fellow men and my style. I carried it around with me for a long time and thought it through again and again. Every time Vivian and I saw an empty shop window, we imagined it was our shop and imagined what we would do with it. And one day I really drove past the little shop and saw the white sign "shop for rent". I had to decide whether I wanted to make the dream a reality. My husband thought I should do it now, because otherwise I probably wouldn't do it anymore. So I opened my shop on January 13, 2017.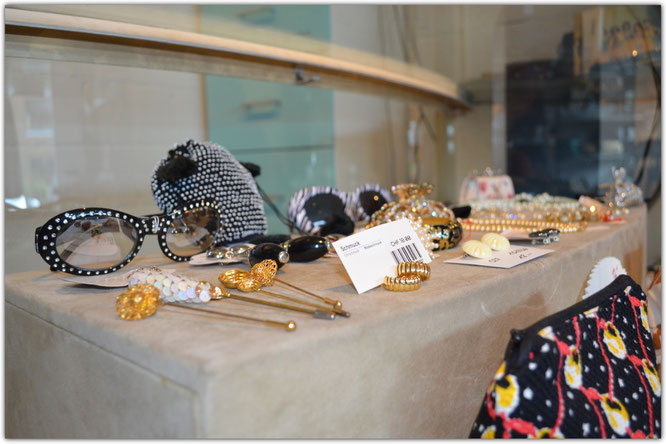 My butik is still in the start-up phase. I keep sowing a seed and wondering how it grows. Sometimes I scare myself from my courage (laughs). But I simply say to myself: "Go ahead! When it is then through, I sometimes think: "Oh my God! (laughs). I might not have had the courage before, but now I think we should just do it. No matter what. You never know what will happen. My husband supports me a lot. Every time my courage leaves me and I have doubts he says: "Now you have started the engine, now you have to do it".  And we just do it. Without my husband and my children the whole dream would not have been possible.
 
And without my customers, of course, it would not have been possible. I am very satisfied and happy. I would never have thought that I would be able to offer so much goods and so much variety. Also thanks to the tailoring I can fulfill with my dream the clothes dreams of others. And at fair prices.
 
At the end of our interview, I will give you an imaginary hour with someone from any era. Who is it and what would you talk about with this person?
I would like to get to know style icons from the past. Be it an Audrey Hepburn or a Jackie Kennedy Onassis. I would certainly talk to them about fashion and their style on the one hand, but also about the position of women back then on the other. These two are strong women who impress me very much!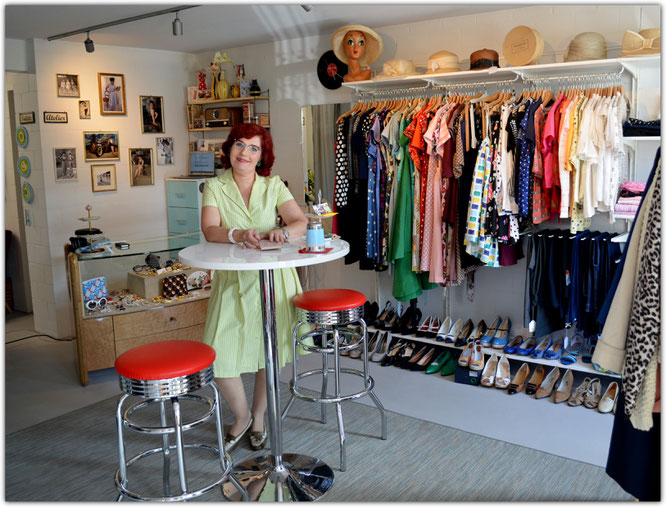 ---