Every time I pick up a book, it's like a little cloud opens up into another world.  As soon as my fingertips touch the book cover, a gate opens in me into a parallel world and I dive into the history of others. There is nothing that fascinates me as much as a good book.
It begins with the sight of the cover. Often it is the beautiful cover that decides whether I give the book a chance or not. I feel particularly addressed when the cover reveals that the story is set in the past. But I'm very complicated, by the way. Every story that takes place before the 1920s has a hard time with me.  That's not necessarily because I'm one-sided or stuck. It has more to do with the fact that I am a lazy reader.

Some would now say that someone who reads can hardly be lazy. But I vehemently disagree. There are people who constantly educate themselves through literature. I have such admirable people in my family. Their library contains books that give me a headache when I just read the preface. Sometimes I would like to be like them. So educated and eloquent. I'd like to be someone who reads a few pages of Tolstoy before falling asleep in the evening and lets Mozart's little night music play quietly in the background. With Tolstoy's Anna Karenina I only made it to page 100, and to be honest, I hardly hear any classical music. But if I do, I prefer Bach. This is because I have played the piano for several years and Bach's compositions seem to me to be the most refined of all the great composers.
Oh, I digress. What I actually wanted to say was that I have no artistic soul. Or at least not a big one. I am not Nicole Rhoslynn. For me, she is the epitome of such an artistic soul: gentle, longing, heartfelt. She belongs to those dreamy beings who, to the sound of Beethoven, immerse themselves in a poetry by Rilke and who not only read the words but feel them.

Sometimes I wish I had a little more Nicole in me. But then again I think that I am exactly right as I am. Because I'm not someone you admire and look up to. I am like many. One of you. And we are all perfect. And there's nothing wrong with the fact that your own library is full of novels, dramas and band or music biographies. But doesn't mean that you shouldn't occasionally read a book outside your own comfort zone.

But I read to dream. To strip off my small, wonderful world for a moment and dive into another wonderful or not so wonderful world. I want to feel with my characters. Laughing, crying, annoying me. I want to burst of tension and become a second Sherlock Holmes. And precisely because I want to feel so much into my protagonists, they have to be close to me. I have to be able to discover something in them that I find in myself too. And because I have a rather down-to-earth disposition, a penchant for romance and drama and because I am not only interested in history, but also in reality in some aspects terribly (gloriously) old-fashioned, I love romantic dramas that take place in the 40s and 50s. Oh wonder, who would have thought that?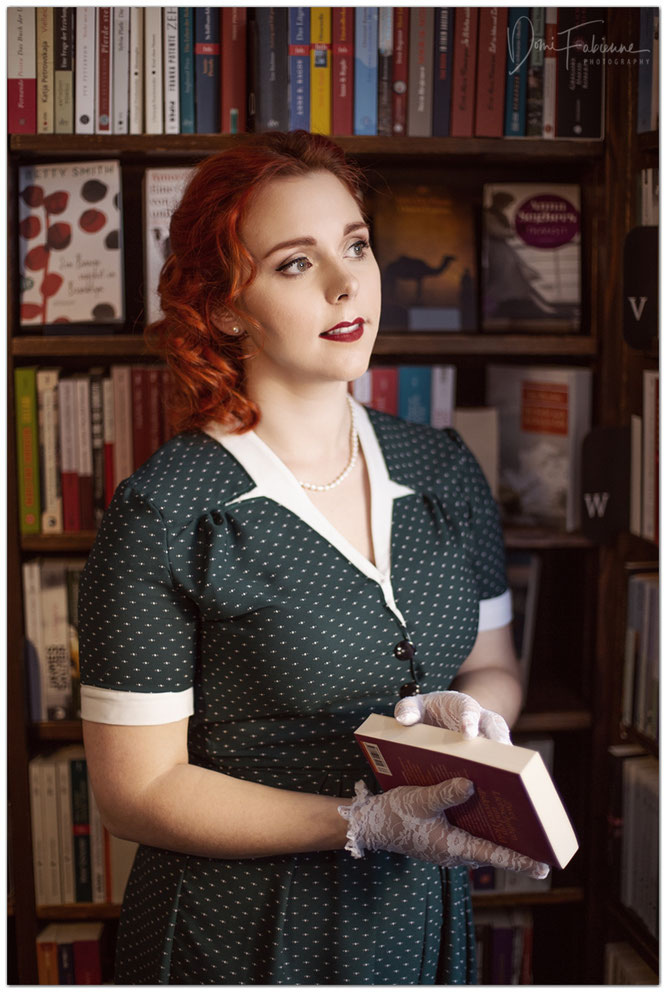 But what else do I pay attention to when buying a book, besides the cover? If the cover has convinced me, I find out who wrote the book. If it's a German name, I almost certainly won't buy the book. I know very well that the German language is known as the language of poets.  But I can't help myself, I can't stand the writing style of the Germans. In many cases, it is simply too long and too peculiar for me. Only the Swiss are worse. They decorate every sentence extra artistically, garnished with thousands of commas. I always ask myself whether we want to compensate our rather rough spoken dialect in any way with the overloaded written German. And yes, as horrible as the Swiss writing style is to me, so bad am I myself. I, too, have an urge to be long-threaded and overloaded. If there was a stop button for it, I would press it immediately. But hey, apparently not everyone goes to court with us scribblers and writers as hard as I do, and so I can now enjoy a considerable number of readers.

I like the writing style of American writers best. In any case, the Americans are not a fan of snake sentences. They write short and concise and to the point. That also applies to the stories. With my favourite writers I rarely have the feeling that the plot is unnecessarily protracted. The story is always in flux and pulls me along.
So if the cover and the writer fit, then of course I pay attention to the content. That is actually the most important thing. No woman stays with a man who is beautiful but unbearable. And I don't read 350 pages of a book that I don't like.

Which brings me straight to the next point: the number of pages. I used to literally devour books. But that was also during times when I had 13 weeks of school holidays. It didn't matter to me whether my book had 300 or 1000 pages. Today I like books with about 350 pages the most. You never have to wait so long for the happy ending, the resolution of the murder case or the end with a crying fit.

So, now you know how I proceed as soon as I enter a bookstore. By the way, the whole reading procedure can take more than an hour. I love bookstores more than anything. Just the smell and the atmosphere. Actually, I wanted to introduce you to my favourite writers today, but somehow I got involved too much in the introduction, so that after more than one and a half A4 pages I don't have the necessary capacity anymore. After all, my blog posts are supposed to be about a (long) toilet break filling length. Although I've probably never really managed to get it to toilet break length before. But that doesn't matter. A before-going-to-bed-story-length is also perfect. Well, that's how I am. I write how I live. At the beginning I never know where the story will lead me.

I wish you a good night, dear ones, nice that you are there!

Sincerely
Your Scarlet Rose
---