Because what could be nicer than having cuddly warm ears on a fresh spring day? Or what were you thinking of *haha*? It's even nicer when your headdress is homemade. Here you can find the way.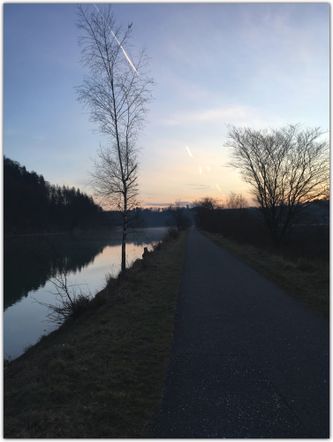 Two weeks ago, on a day off early in the morning, I tortured myself out of bed to catch the first rays of sunlight. The weather forecast predicted a beautiful, sunny warm day. So I jumped out of bed fresh and happy *irony off* and threw myself into spring-like clothes. In front of my inner eye I already saw myself stepping out of the house like in the TV commercials, stretching out towards the golden rays of the sun, closing my eyes in an enjoyable way and sighing softly. So I stepped outside the door, ready to make a big entrance and - stumbled backwards back in my appartement. I definitely didn't think it would be that cold. Sure, the sun wasn't shining yet. It was early in the morning. So I briefly calculated how likely it would be that I would catch a cold if I stayed longer than five minutes outside. The chances were very good. But I thought to myself that I should finally put the winter in its place, and how would that work better than with my pretty flowery dress? And I'm sure it wouldn't be too long before the sun started warming me up. So I once again gathered all my courage, breathed deeply for a moment and daringly plunged myself into the spring morning.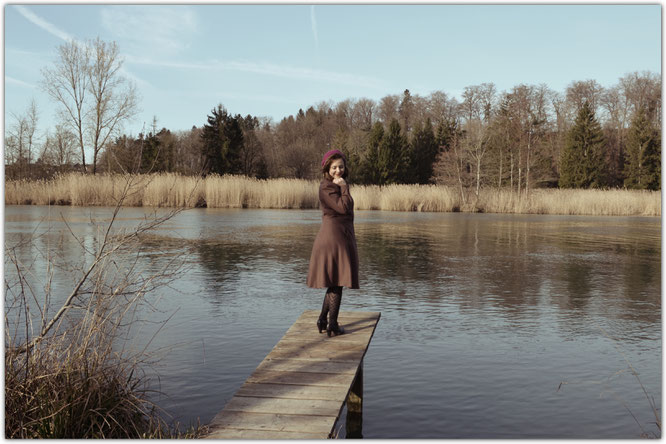 For the first five minutes I walked along the path like a savage, hoping that the movement would warm me up a bit. I didn't notice anything of the first spring flowers and the magical atmosphere, I was so focused on my steps. After another five minutes on the march, I couldn't feel my fingertips, my ears were almost frozen and my nose was racing with my feet. My walk lasted exactly 11 minutes, then I was beaten by the temperatures and had to admit: A flower dress alone does not make spring.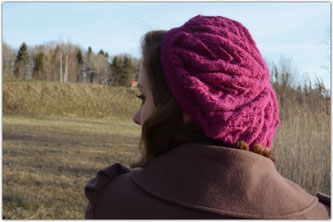 So I went back to the apartment. Out of the flower dress, into my flannel trousers and cuddle up on the sofa with a hot cup of tea and my two cats. While warming up I thought about what I could do against the still rather fresh temperatures. The flower dress failed, but to go out with my cap and winter coat definitely went against my grain. Then it occurred to me that I still had two balls of raspberry yarn left. Since I was sitting on the couch anyway, I could also use the time to surf a bit on my favourite knitting site Ravelry. There I discovered a sugar-sweet beret from my favourite designer DROPS, which was literally screaming to be the solution to my problem.
 
By the way, my calculation turned out to be completely correct. Within two hours I felt terminally ill. And no, I never (!) tend to exaggerate. I wasn't too sick to knit, so the needles were rattling around the clock and for the next spring morning my beret with the appropriate name "La Fleur" was ready.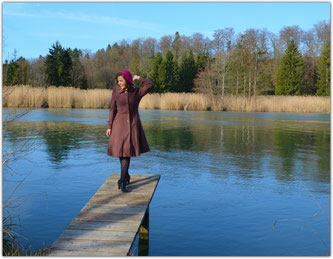 In my second attempt I made a winter spring compromise: closed shoes (which I really only wear in winter), tights, sleeveless dress without petticoat and without jacket and then the winter coat over it. And my ears were decorated and warmed by my raspberry-coloured beret. So I was able to extend the walk from 11 to 63 minutes and actually still had my TV or star moment when an older gentleman approached me and asked if I was "so äs Modäääu" (Swiss German for "such a model"). I answered with an absolutely truthful NO, because I felt so out of place in front of the camera that I would have liked to be sunk in the ground when I was caught photographing myself. "So embarrassing", I thought to myself and continued smiling bravely.
 
In the end the bravery was still worth it, because I was rewarded with a few pretty photos of my beret, which of course I don't want to withhold from you.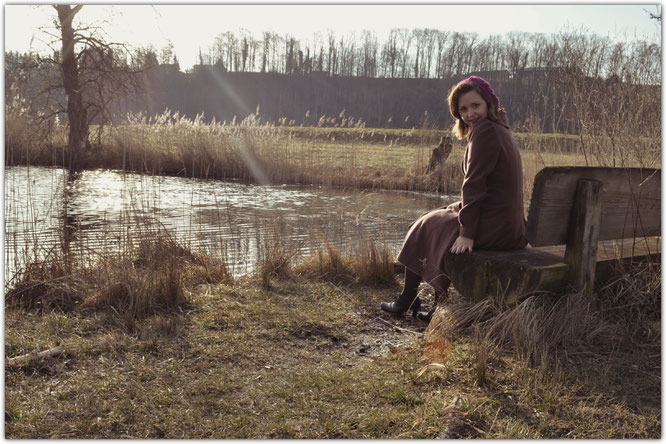 Here you can find the knitting pattern to knit yourself. The difficulty level is 3.5 out of 10 possible difficulty points.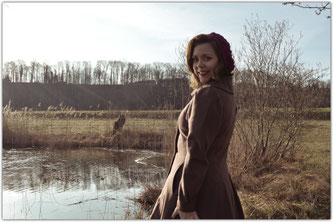 However, you should be a little bit skilled in knitting hole patterns. Otherwise it is more a matter of concentration. I had about 10 hours to knit on my hat, but I don't think I'm one of the fastest either, because Netflix (currently Miss Fisher's Mistery Murders) is consistently running into me. After all, my ears and eyes have to be kept busy, not just my hands.
 
If you want to have such a beret but only use wooden sticks for Chinese and nowhere else, then you will find the solution in my shop very soon. I would be so happy if I could knit you your very own individual beret!
Thank you very much for reading and have a wonderful spring day!
 
Sincerely
 
Scarlet Rose
---