It has been a year and a day since we set off on the long journey across the big pond and fulfilled our dream by travelling through the southern states of the USA for two months. Besides many memories, souvenirs and photos, I also brought home a typical American recipe: banana bread.
So because today I reminisce again and my bananas already had their best days anyway, I went into the kitchen and baked a banana bread alias banana cake. It goes really fast. And simple. What suuuper is for you, because if I get it baked, it is certainly a piece of cake for you (wordplay haha)!
By the way, I'd like to dedicate this blog post to a dear colleague who never gave up his faith in my baking skills completely and who is always there to advise me. To pass on one of his best tips: Mise en Place is half the battle!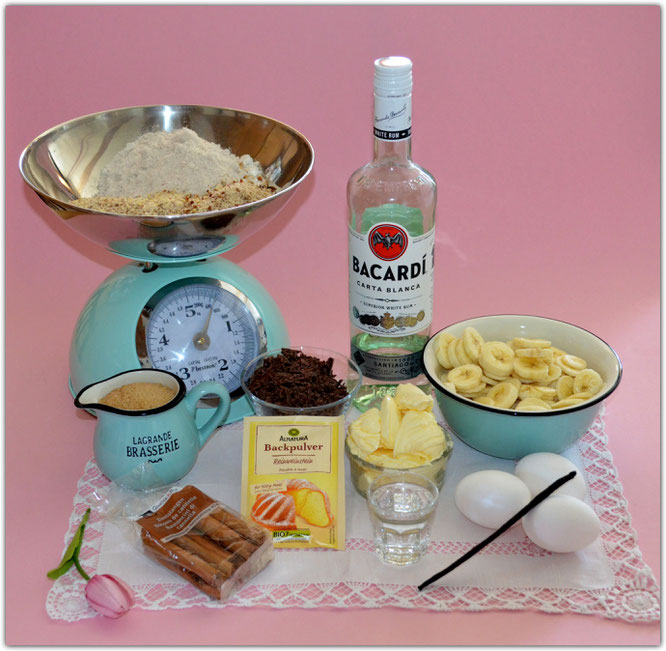 For a cake you need:
190 gr soft butter
300 gr brown sugar
3 large free-range eggs
2 tsp vanilla sugar
1 tsp cinnamon
3 tbsp rum (and an extra glass for you)
3 very ripe bananas
250 gr spelt flour
120 gr ground almonds
80 gr coarsely chopped hazelnuts
1 pinch salt
3 tsp baking powder
150 gr dark chocolate finely chopped (for the cake)
200 gr black chocolate (for the glaze)
1 dl half cream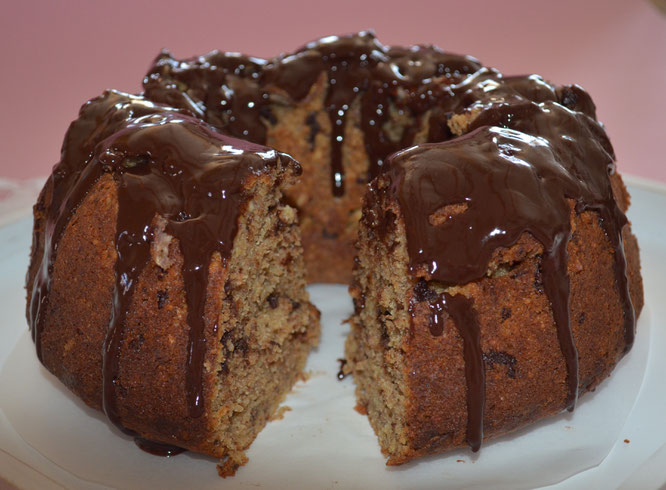 preparation
Preheat the oven to 180 degrees Celsius (lower and upper heat) and rub the cake tin with butter.
Mix butter and sugar with the blender until the mixture becomes a light yellow. Gradually add the eggs and stir in the vanilla sugar, cinnamon and rum. 

Mash the bananas finely with a fork, enjoy the extra glass of rum and then add the banana paste to the egg mixture, stir everything. Mix the flour, ground almonds, coarsely chopped hazelnuts, salt and baking powder and add to the mixture. 

Now add the chocolate, stir and put into the tin. See, I told you it's easy.

Now put the cake tin into the middle of the oven and wait 45 minutes. Alternatively, you can treat yourself to a second extra glass of rum. Then you do the chopstick test. You put the chopstick in the warm cake, if half the dough still sticks to it, then the cake is not yet well baked. Then you can simply push the tin back and bake for another 5 minutes, then repeat the test until no more dough sticks to the stick or you are already too drunk from the extra glasses of rum to be interested in the cake.

Let the cake cool down well and then take it out of the tin. Now you can prepare the glaze. Heat the cream and then add the chocolate, melt. When the mixture has reached the desired density, simply tilt it over the cake. And then: enjoy!
---